Check out these Top 12 Recipes of 2017 to see if any of your favorites are on the list. There is a little something for everyone from a soup to a snack to a delicious chicken dinner.
TOP 12 RECIPES OF 2017
I wanted to take a few minutes to reflect on 2017 and what a delicious year it has been here on A Cedar Spoon. I hope you have managed to find some recipes to make for you and your family and have added some favorites to your recipe box. I know I have found some new favorites that I make time and time again. Below you will find the Top 12 Recipes of 2017 which are a collection of the recipes created in 2017 that my readers visited and used the most.
You will find a little of everything in these recipes–a comfort food, a snack food, a soup, a side dish, a few meals that are easy and delicious. Thank you all for stopping by this little corner of the world and sharing the love of food with me. Food is something that can connect people from all over the world, from different walks of life and create a common thread and for this I am thankful.
As we enter 2018 I am cooking up lots of new, exciting recipes. As always, I would love to hear from you guys about what you want to see more of in the New Year. Is it more easy dinner recipes, Instant Pot creations, slow cooker meals, healthy sides, Mediterranean recipes. Please stop by my Facebook or Instagram to let me know, email me at acedarspoon@yahoo.com, leave a comment on this post or send me a Tweet. One of my favorite things about my job is interacting with you all, my readers. Please share all your thoughts and recipes ideas with me and lets make 2018 an even more delicious year!! Cheers!
Baked Mac and Cheese with Panko Breadcrumbs is an easy homemade macaroni and cheese recipe using your favorite pasta, a cheesy sauce and panko breadcrumbs for crunch. This is the perfect comfort food!

Roasted Red Pepper Greek Yogurt Hummus is a creamy dip that pairs nicely with pita bread or fresh vegetables. Chickpeas, tahini, lemon juice, spices and fire roasted red peppers are blended with Greek yogurt for added protein and creaminess making this not only healthy, but delicious!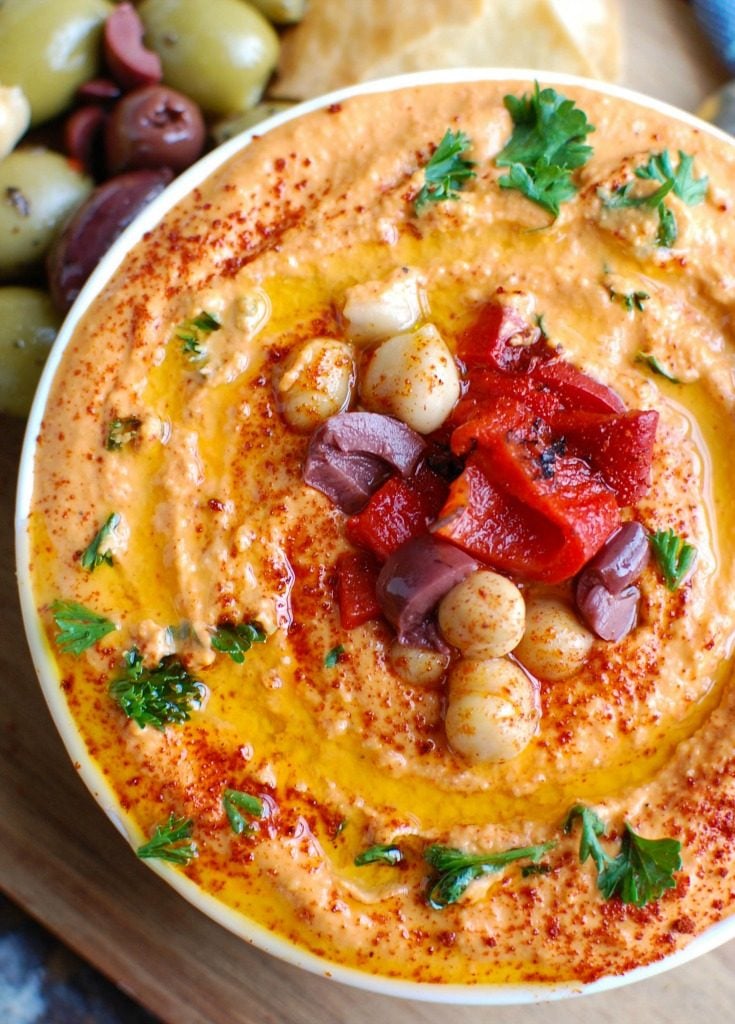 One Skillet Cheesy Hamburger Pasta is a quick and easy one skillet or pot meal mixing ground beef, tomatoes, cheese and pasta to create a cheesy hamburger dish. The leftovers reheat wonderfully so you have options for lunch and dinner later in the week!
Roasted Parmesan Garlic Cauliflower is a fun, delicious way to make cauliflower. Roasting the cauliflower brings out a sweet flavor that pairs nicely with garlic and warm parmesan cheese. This makes an easy side dish the whole family will love!
Mexican Tuna Stuffed Avocados mixes tuna, black beans, fresh vegetables, lime juice and spices to create an easy snack or lunch that is also heart healthy.
Slow Cooker Stuffed Pepper Soup takes the stuffed peppers you know and love and puts it into a soup. This soup mixes together ground turkey, bell peppers, tomatoes, spices and brown rice to create a hearty soup perfect for the colder months.
Cranberry Almond Energy Bites are a no-bake energy bite that are easy to make and even easier to throw in your bag for a quick, healthy snack or treat. Oats, chopped almonds, dried cranberries, almond butter, honey, chia seeds and cinnamon are mixed together to create a sweet, delicious bite.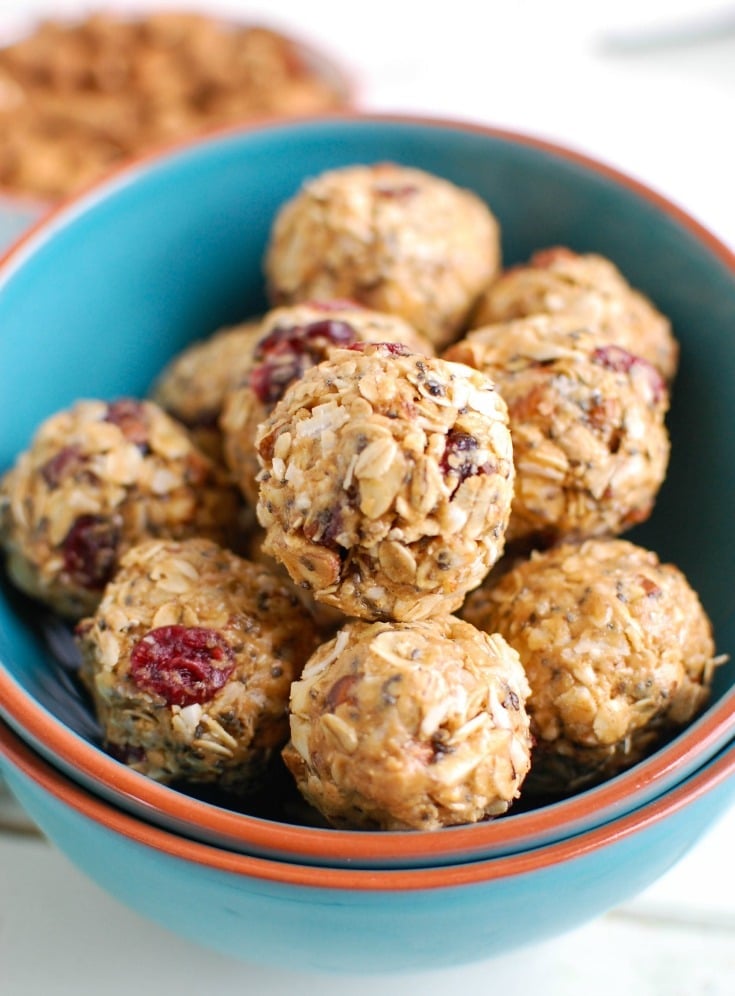 Spicy Asian Chicken Zoodle Soup is a lightened up version of your favorite Asian Chicken Noodle Soup using zucchini noodles. A spicy chicken broth is paired with chicken, carrots, fresh cilantro and green onions, Sriracha, lime juice and fresh ginger. This soups packs a lot of flavor into one bowl of soup.
Mediterranean Baked Turkey Meatballs are turkey meatballs mixed with the warm, rich spices of cumin, cinnamon, allspice and cayenne pepper. These meatballs are lean and baked to create a healthy meal option. Pair these with fresh Mediterranean ingredients to create a rice bowl for dinner!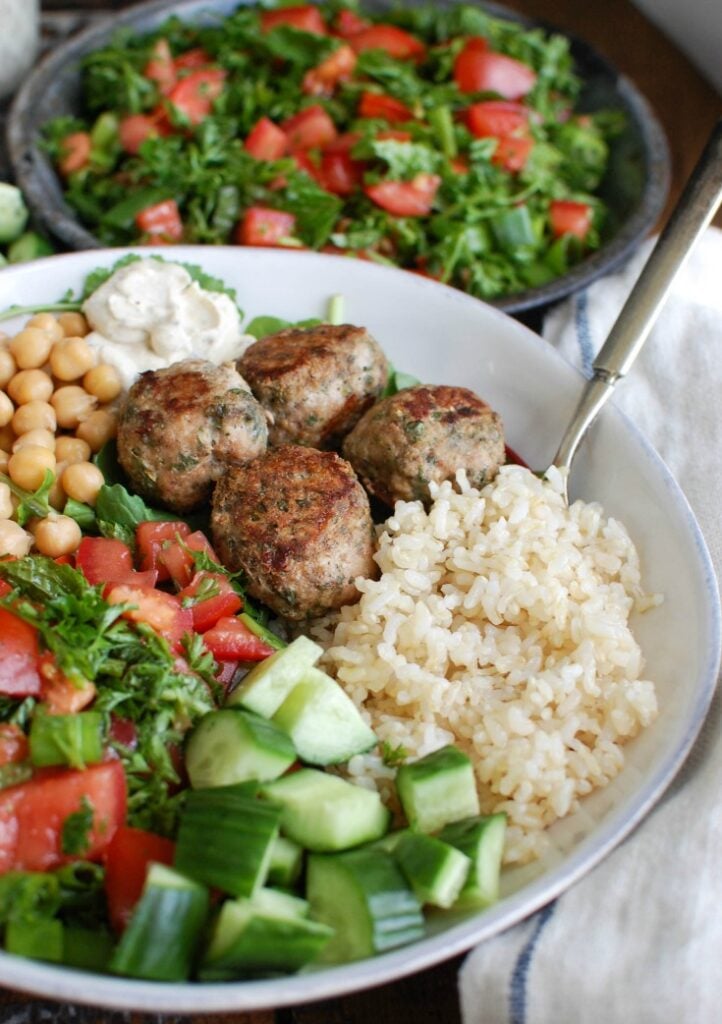 Simple Curry Chicken Salad is a lightened up version of classic chicken salad with rich, warm curry added in. Shredded chicken is mixed together with Greek yogurt, mayonnaise, honey and curry and then combined with golden raisins, shredded carrots, chopped celery, fresh green onion and parsley. This is a nice option for a picnic, weekly lunches or a shower or brunch!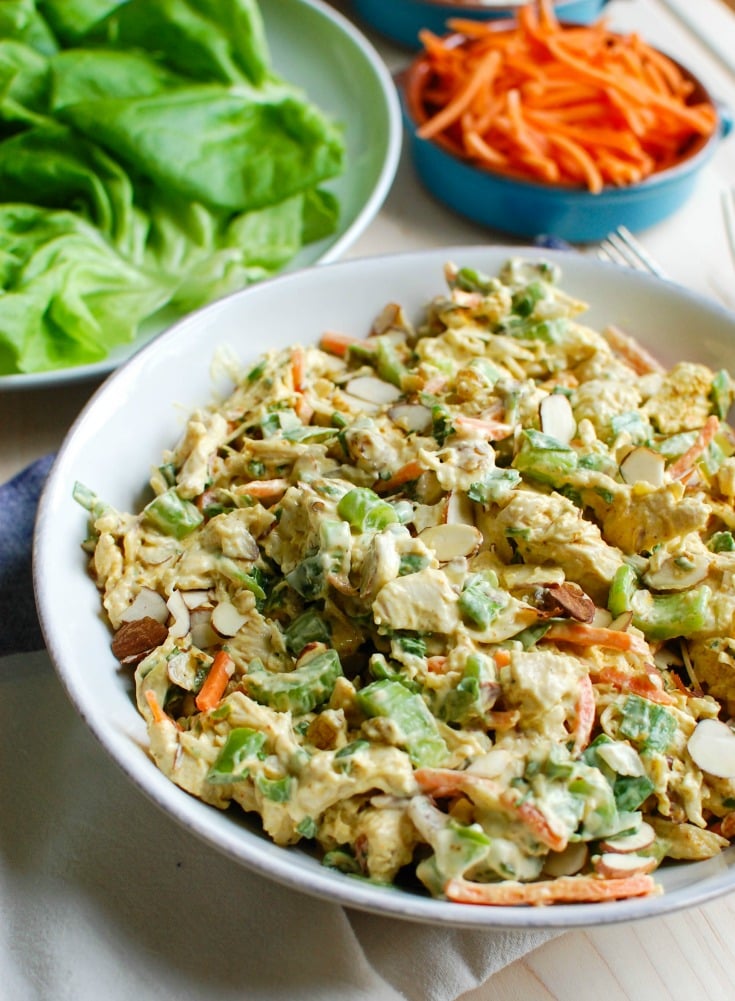 This Skillet Tomato Basil Meatballs is warm, cheesy and the perfect appetizer for a party, game day or for your family to enjoy. Tomato basil meatballs are cooked in a rich tomato sauce and topped with gooey, warm cheese and fresh basil. Pair it with warm baguette to create the perfect bite sized appetizer!
These Moroccan Chicken Thighs are tender, rich with flavor and simple to make. Chicken thighs, carrots, onions and diced tomatoes are cooked in Moroccan spices creating a meal that will spice up any night of the week.