Make your own healthy and delicious Homemade Peanut Butter. No preservatives, additives or strange words you can't pronounce!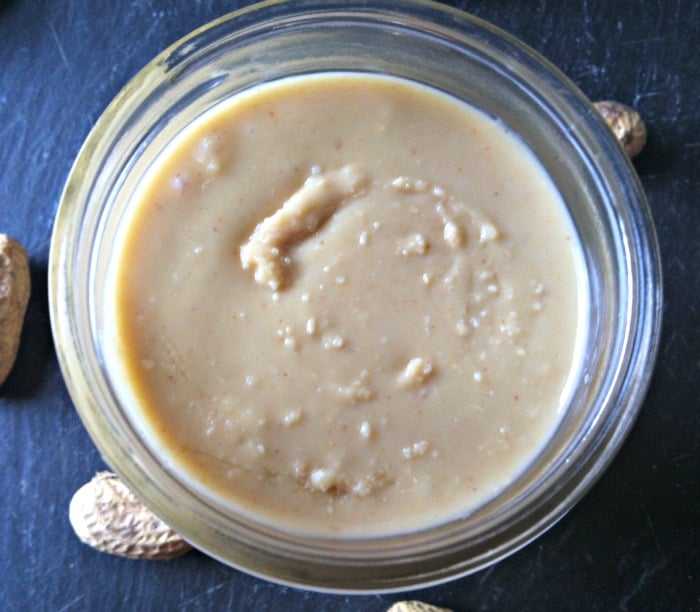 Homemade Peanut Butter Recipe
Good Morning! I hope you had a great weekend. Today I am sharing a homemade peanut butter recipe. I love trying out a new recipe for something I eat almost every day.
There is something to be said for
homemade food
. No preservatives, additives or strange words you can't pronounce. Today I am sharing with you an easy way to make homemade peanut butter. If you are like me you might have a slight love for peanut butter–in cookies, brownies, ice cream, oatmeal, for dipping celery and apples in, or that occasional spoonful of peanut butter as I walk by the pantry.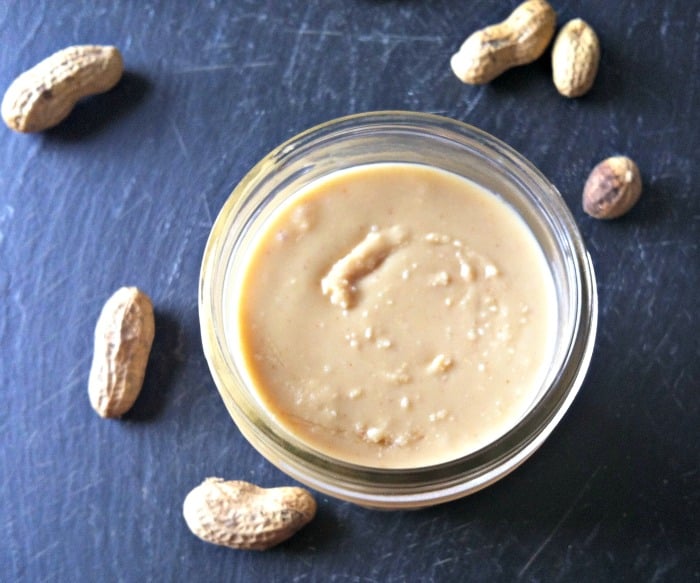 Homemade peanut butter is customizable based on what you like in a peanut butter. Do you like that roasted flavor? Then buy roasted or honey roasted peanuts or even better
roast them yourself
. Do you like chunky peanut butter? Instead of blending the peanuts into a smooth texture stop blending before it is moving freely through the blades of the processor (that is right before it will start to turn smooth). Sweeter? Add a little sugar or honey.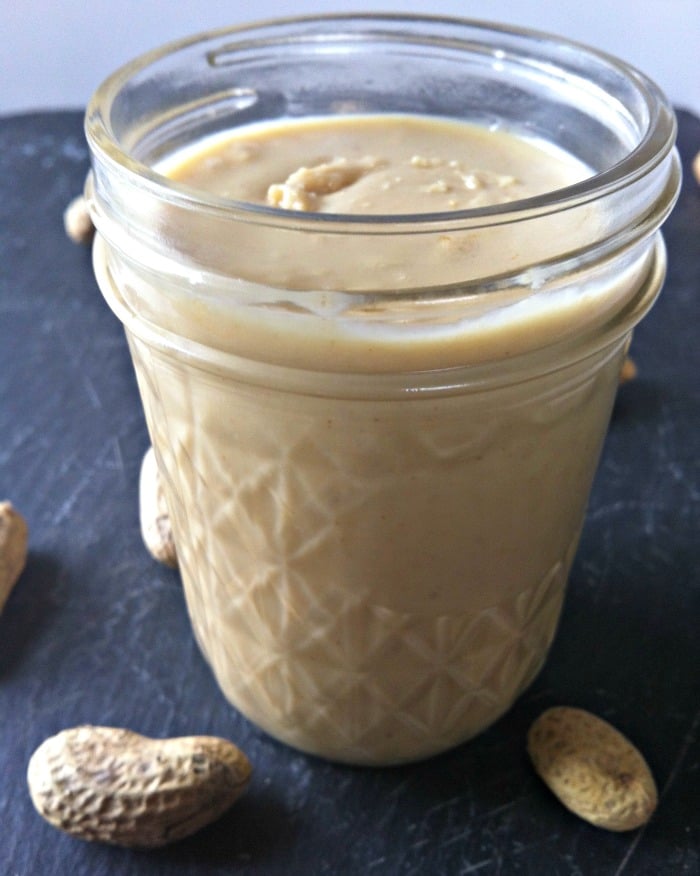 The only required thing for this recipe is peanuts. Yes, only one ingredient! When I made this recipe I was on the hunt for a bag of roasted, unsalted peanuts. I couldn't find them already shelled so I proceeded to buy the whole peanut and shell them myself. Easy? Not so much. I must admit that while shelling 3 cups of peanuts my mind started thinking of the 1,000 things on my to do list. Moral of the story, unless you find shelling peanuts therapeutic (and some people might), hunt down a bag of already shelled peanuts. You can decide whether you want to buy salted or unsalted. If you do buy unsalted peanuts you will probably want to add some salt to taste, but you be the judge.
Measure 3 cups of peanuts and put them in your blender or food processor's bowl.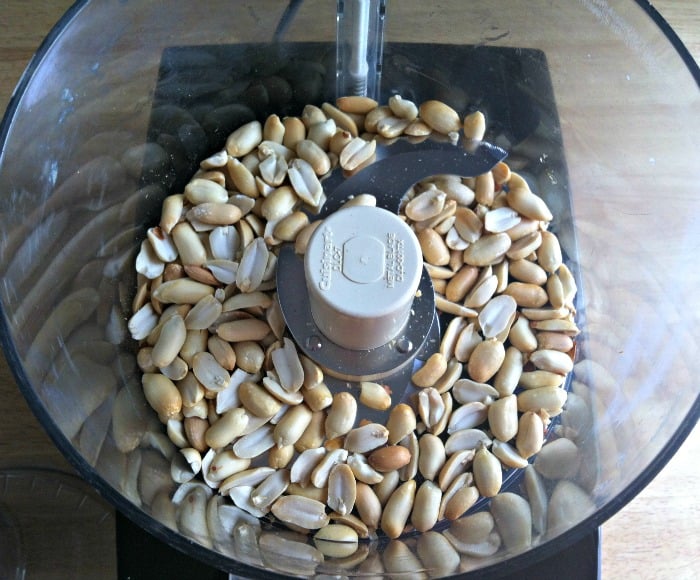 Start it up and watch those peanuts turn into a smooth texture right before your eyes.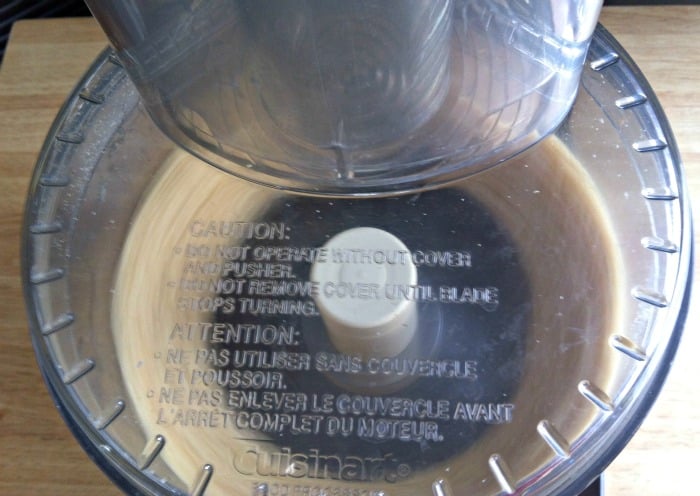 I gave mine a couple of scrapes throughout the process with a spatula. It took me about 9-10 minutes to get it to the texture I like, but this is dependent on your preference and something you just have to watch as you are doing it. You will notice that the peanut butter goes through different stages starting with crushed peanuts, to a paste texture, then it starts to thicken, becomes a big ball of peanut butter and then it starts to get really smooth.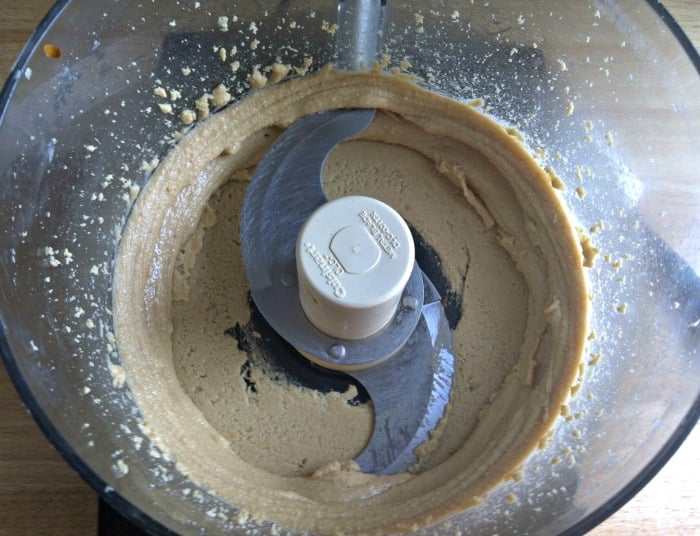 Once you are done and have the texture you want, take a quick taste of the peanut butter to make sure it tastes the way you like. You can add in different additions at the end like honey, or sea salt. Transfer to an airtight container and refrigerate for up to two months.

Homemade Peanut Butter Recipe
Homemade peanut butter takes about 10 minutes to make and is creamy, healthy and you know exactly what you are putting in it.
Ingredients
3 cups (24oz) of shelled peanuts (your choice: honey roasted, roasted or un-roasted, salted or unsalted)
Instructions
Put the 3 cups of peanuts in the bowl of your food processor or blender.
Turn the blender on and let the peanuts break down, scraping the sides if necessary. Continue to blend the peanut butter until you begin to see a very smooth texture (you will go through stages as you make the peanut butter: 1. crunchy, 2. paste, 3. thick paste, 4. ball of peanut butter, 5. smooth peanut butter).
Taste the peanut butter and add salt to taste.
Notes
You can add 1 teaspoon of peanut oil or vegetable oil if you think your peanut butter needs it but I found it is best without it. You will have a pretty runny peanut butter at first but once you put it in the refrigerator overnight it will thicken up. A few optional additions to peanut butter: Honey, Sugar, Caramel, Chocolate
What is your favorite flavor or addition to peanut butter?
Julia