Southwestern Hummus Baked Wonton Cups are a fun finger food mixing spicy hummus, black beans, corn and cheese and baked into a wonton cup until crispy and warm. These are packed with flavor and work great as a snack or party food!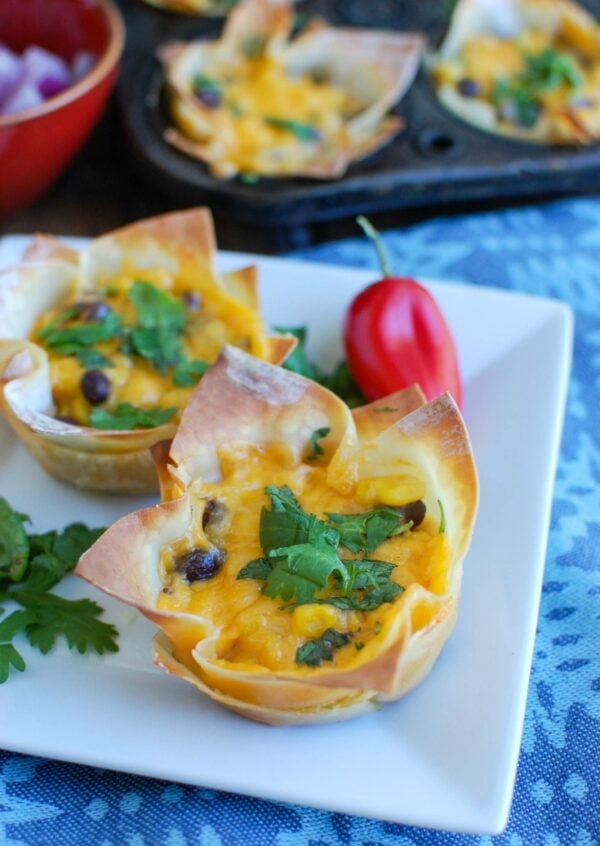 SOUTHWESTERN HUMMUS BAKED WONTON CUPS
I can't believe that school is out in a week for us! This school year really flew. I am guessing it is because we have a new member in our family that takes a lot of time and energy. The days fly by when you are entertaining three little ones. You know what saves me some days when the 3 o'clock hunger sets in? An unofficial meal that I can give to my kids to tide them over until dinner. That in-between lunch and dinner pick-me-up. For a lot of people this occurs right after school when the kids get off the bus. You can have these Southwestern Hummus Baked Wonton Cups on hand to pop in the toaster oven.
An unofficial meal, like these wonton cups, makes a great everyday snack or appetizer. These are so satisfying it feels like meal. Sometimes I even like to set these out as I make dinner, because my kids always get cranky right around that time and start asking for food. With an unofficial meal there are no formal meal rules, like you have to sit at a table to eat, you get to be more relaxed and snack with your friends or family.
…