Roasted Cauliflower with Almond Panko Topping is a delicious and healthy side dish that will win over the cauliflower haters in your life!
Are you one of the many people in this world that doesn't like cauliflower?
If you said yes, you are not alone. My husband is right there with you along with a lot of other people. For a long time we just didn't eat cauliflower because I figured it was easier to make something we both would eat otherwise I'd be eating cauliflower for a week. And as much as I like it that is a little overkill.
Cauliflower is the same as broccoli for me when it comes to how I like to eat it. I actually prefer it raw with a little dressing on the side to dip it in. But once again that doesn't fly in my household.
Roasted Cauliflower with Almond Panko Topping
I like to try new ways of making cauliflower in order to get my family to "like" it. 🙂 This recipe for Roasted Cauliflower with Almond Panko Topping is really tasty and adds crunch and flavor to cauliflower with panko bread crumbs, almonds and Parmesan cheese. If you have ever roasted cauliflower you know that it brings out a wonderful sweet flavor that even the kids will love.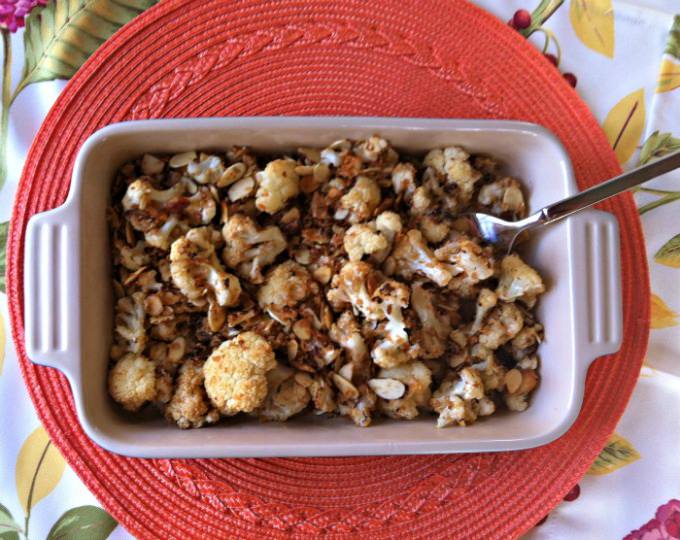 Give this recipe a try as a side dish to your weeknight meals (I think it might have some of those cauliflower haters switching teams).
Roasted Cauliflower with Almonds and Panko Topping
Yield: 6-7

Prep Time: 10 minutes

Cook Time: 30 minutes

Total Time: 40 minutes

A crunchy, sweet combination of cauliflower, almonds, Parmesan cheese and panko bread crumbs makes this side dish a family favorite.
Ingredients
6 cups cauliflower (one 3lb. head of cauliflower)
1 Tbsp. olive oil
1/4 cup shredded Parmesan cheese
1/4 cup butter
3 garlic cloves, finely chopped
2/3 cup slivered almonds
2/3 cup panko bread crumbs
Instructions
Preheat oven to 425.
Clean the cauliflower by pulling the leaves off of the base of the cauliflower and cutting the stem away.
Cut the cauliflower into 4 sections and then slice each section into 6-7 pieces, depending on the size you want. Rinse the cauliflower and lay on a paper towel to dry (you may want to use a second paper towel to help pat it dry).
Place the cauliflower in a large mixing bowl and mix the 1 Tbsp. olive oil with cauliflower. Roast in oven for 20 minutes, tossing once throughout the cooking process.
Sprinkle the cauliflower with Parmesan cheese and roast for 5 more minutes and remove from oven.
In a large skillet melt 1/4 cup butter and stir in the chopped garlic and sauté for 20 seconds.
Stir in the almonds and panko bread crumbs cooking until golden brown.
Add the panko bread crumb mixture to the mixing bowl along with the cauliflower and toss.
Serve warm.
Adapted from Eating Local in the Lou
*This makes enough for a group so if you have a small family you will have leftovers to use at another meal.
Julia