This Spaghetti Pie Recipe is the perfect weeknight family meal that is easy to make, packed with protein from the beef and very filling. When I make this recipe I always have leftovers all week long which is nice when you need a quick lunch or dinner.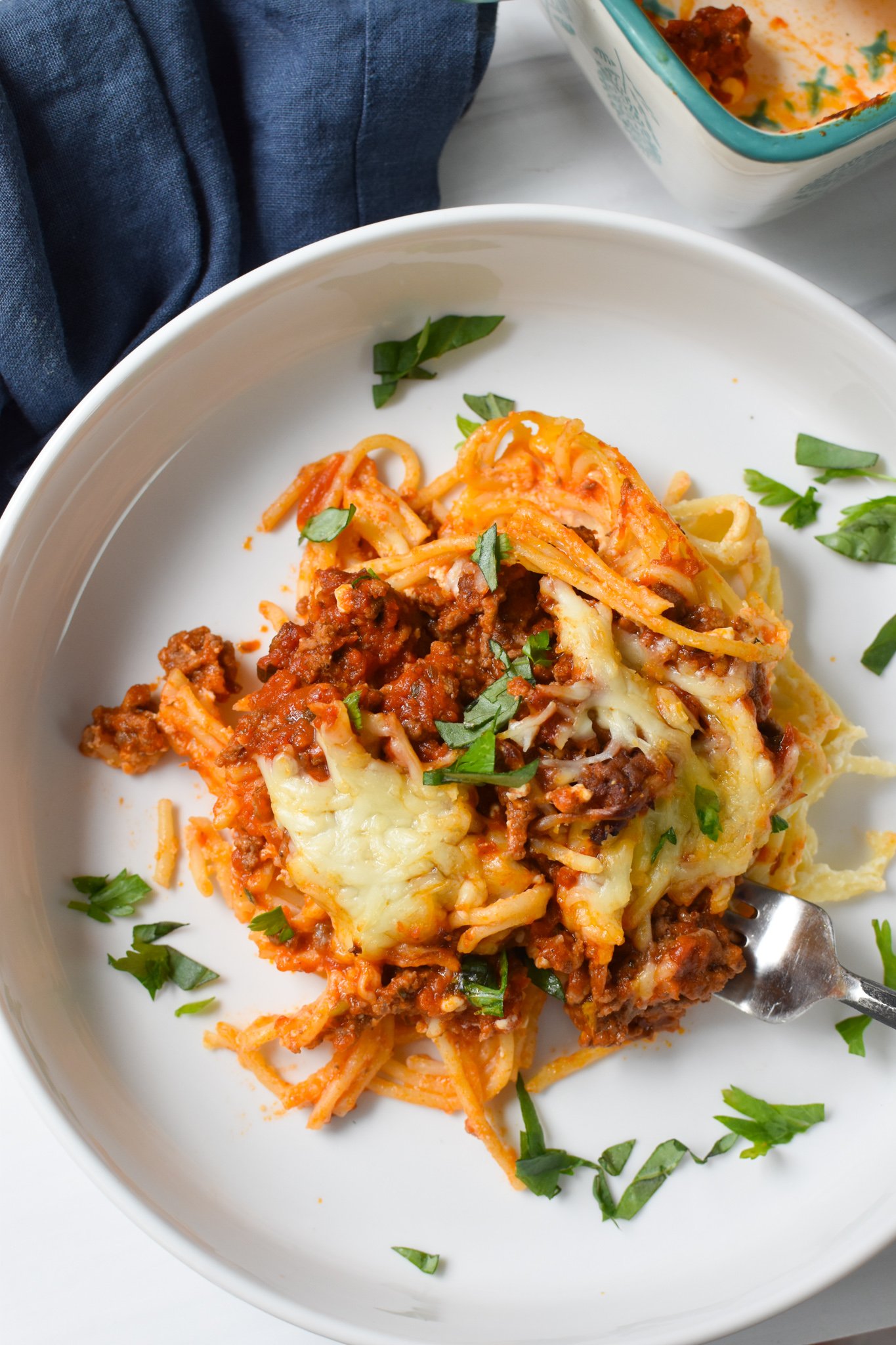 SPAGHETTI PIE RECIPE
I am excited to be sharing this Spaghetti Pie Recipe with you all today in celebration of National Farmer's Day.
The Ohio Beef Council and I want to thank beef farmers for all of their hard work and dedication to the beef industry.
This Spaghetti Pie Recipe is extra special because it was shared with me by an Ohio farmer Allan Robinson. This recipe is a family recipe of theirs and I couldn't be more honored to share this recipe with you guys.
My favorite part of this recipe is how easy it is to make on those busy nights and it can feed a large family.
When I make this recipe I always have leftovers which is great to pack for your kids lunch or heat up quickly before sports during the week.
I also had the privilege to talk with Allan Robinson about his experience farming in Ohio and am excited to share a little bit of what I learned.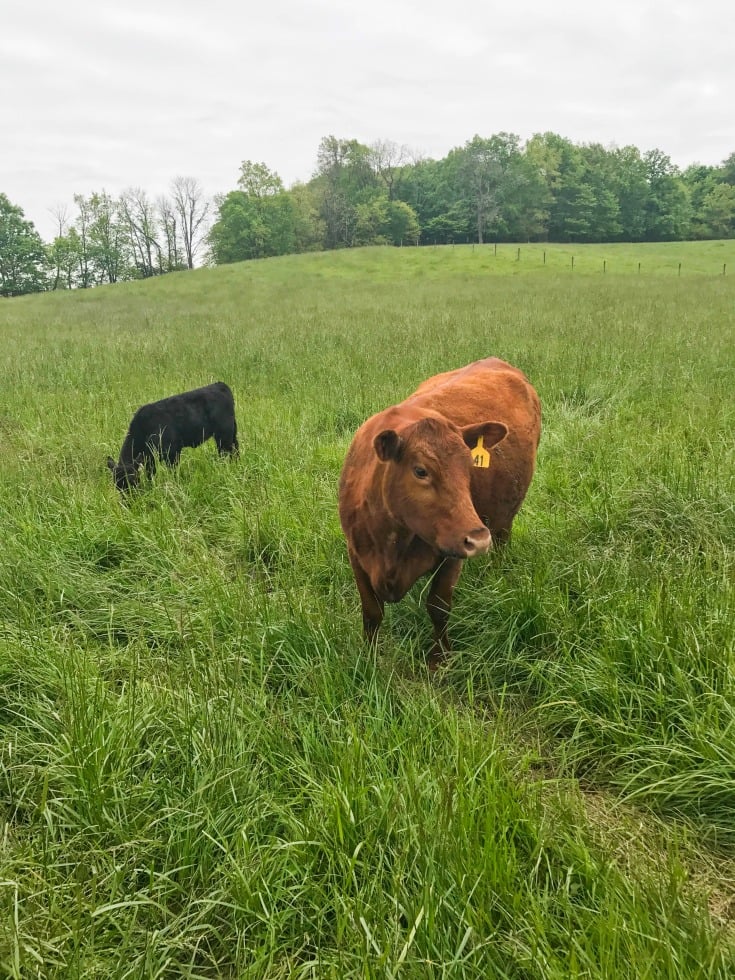 Allan Robinson started raising cattle when he got out of college in 2001.
The family farm has been in the family for over 6 generations. The passion that him and his family has for cattle and beef farming is so special and something I really admire.
These farmers put so much hard work and care into their cattle and raising beef that we get the privilege of eating.
One aspect of farming that Mr. Robinson mentioned was important to him is looking for new ways to always improve his operations.
In particular this relates to the resources that he and other farmers use like grass, water and land. He is always trying to stay knowledgeable about new software and technology that can help him farm smarter and protect the resources we have.
I was also curious how Covid has impacted farmers and what changes he has seen in the industry. He mentioned that he noticed a shift to focus more on local.
People are now more interested in knowing where their beef comes from.
With the issues in the supply chain over the past couple of years many consumers are getting to know their local butcher more personally and sometimes even their local farmers because it might be easier to buy straight from your local farmer.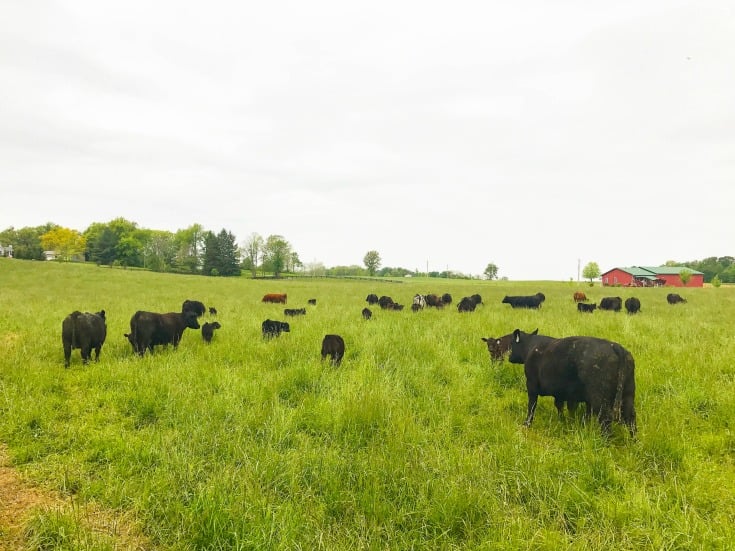 WHAT IS OHIO BEEF FARMING LIKE?
Did you know that 98 percent of Ohio's 17,000 beef farms are family-owned and operated? That is a lot of cattle farms! Beef cattle can be found in every Ohio county.
Nationally, 91% of beef cattle operations are family-owned, and 78% of beef farmers and ranchers intend to pass their operation on to future generations.
I can tell you firsthand after visiting Ohio cattle farms that Ohio beef farmers are passionate about protecting the environment and providing excellent care for their cattle.
Beef farmers work on the same land where their families live and play, so they fully understand and appreciate the importance of conserving resources and caring for the environment through regenerative practices that protects their way of life for future generations.
Cattle farmers and ranchers use many resources to keep the animals in their care healthy and safe, including nutrition programs, veterinary care, facilities that ensure comfort, and good management practices.
WHAT INGREDIENTS ARE IN THIS SPAGHETTI PIE RECIPE
GROUND BEEF: I use 80/20 ground beef when I make this recipe but feel free to use whatever you like. I find the 80/20 has the right amount of fat to really add good flavor to the sauce in this recipe.
OLIVE OIL
SPAGHETTI NOODLES: This recipe calls for spaghetti noodles but if you don't have them you could sub in a different noodles. I find the long or larger noodles work best.
TOMATO SAUCE: You can use your favorite jarred sauce or you can make a homemade version like this one.
COTTAGE CHEESE
MOZZARELLA CHEESE
EGGS: The eggs helps bind the spaghetti pie together. You could leave them out if you don't have eggs or can't eat them.
PARMESAN CHEESE
BUTTER
WAYS TO MODIFY THIS SPAGHETTI PIE
CHEESE: This recipe uses a mixture of mozzarella cheese and Parmesan cheese. You could easily use whatever cheese you like from cheddar to pepper jack.
FRESH HERBS: Fresh herbs always take recipes to the next level. I added fresh parsley but you could also use fresh basil, oregano and thyme.
SPICES: You can add more flavor by using a variety of additional spices. Try crushed red pepper, cayenne red pepper or dill.
VEGETABLES: Vegetables sautéed in with the ground beef would be a nice addition to this dish. Try adding things like carrots, celery or bell pepper.
NOODLES: I used regular spaghetti noodles but you can use other noodles like penne or elbow macaroni.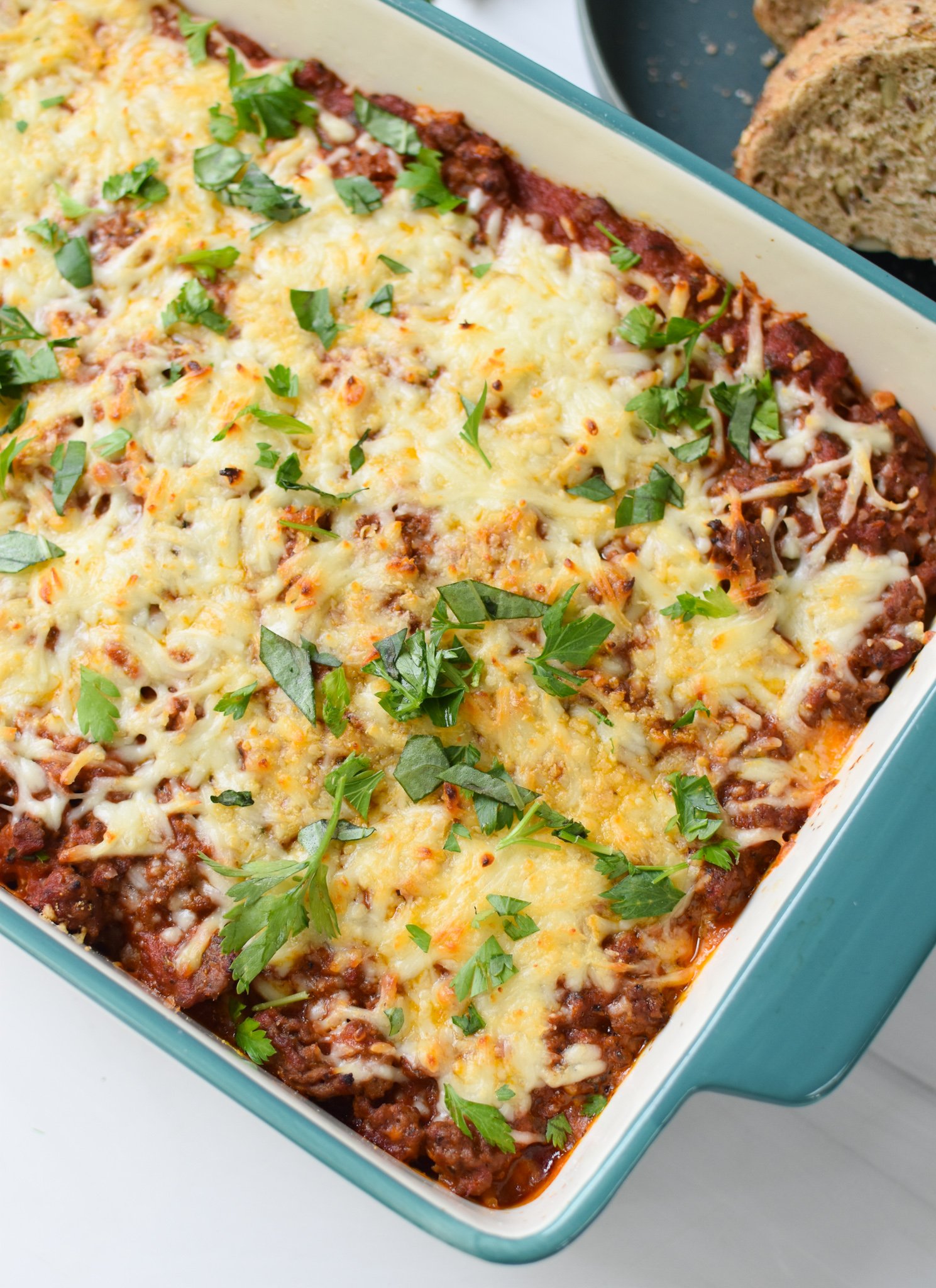 OTHER BEEF RECIPES YOU MIGHT LIKE:
MEDITERRANEAN GROUND BEEF ZUCCHINI SKILLET
GRILLED FLANK STEAK WITH DRY RUB
Ohiobeef.org is a great resource for tasty recipes and nutrition information for you and your family.
Spaghetti Pie Recipe
Total Time:
1 hour
5 minutes
This Spaghetti Pie Recipe is the perfect weeknight family meal that is easy to make, packed with protein from the beef and very filling. When I make this recipe I always have leftovers all week long which is nice when you need a quick lunch or dinner.
Ingredients
1 pound of ground beef, browned and drained
2 tablespoons olive oil
1/2 of a 1 pound box of spaghetti
1 - 24 ounce jar of tomato sauce
8 ounces of cottage cheese
2 cups mozzarella cheese
2 eggs
1/3 cup Parmesan cheese
1 tablespoon margarine, melted
Instructions
Preheat the oven to 350 degrees F.
Cook the spaghetti according to the package. Drain and set aside.
Heat a large skillet over medium-high heat. Add 2 tablespoons of olive oil. Add the beef and brown until cooked through. Drain and set aside.
In the large skillet add the sauce and beef together. Stir until combined and cook on low for 5 minutes.
In a medium bowl mix together the eggs, parmesan cheese and melted butter. Add the spaghetti and mix well.
Add the spaghetti noodles to a 9x13 baking dish.
Add the cottage cheese on top of the pasta and spread evenly.
Add the meat sauce on top of the cottage cheese and spread.
Bake in the oven for 30 minutes.
With 5 minutes left sprinkle the mozzarella cheese over the pasta and bake another 5 minutes or until the cheese is bubbling.
Remove from the oven garnish with chives or fresh parsley and serve warm.

Thanks to the Ohio Beef Council for sponsoring today's post. As always, opinions are 100% my own.