Turkey, Kale and Brown Rice Soup is a flavorful soup that is perfect for Spring and uses vegetables, kale, ground turkey and brown rice to make a satisfying, healthy meal.

Spring? Green Grass? Where are you!!?
My toddler is going crazy and needs to be let loose at the park. Or maybe it's his Mom that is going crazy?
I know I have done my fair share of complaining about winter on this little blog but seriously!? I think I had an excuse. I was the biggest during my pregnancy in the months of December and January and that is when the "polar vortex" came to Chicago. Speaking of "polar vortex" has anyone ever heard that terms used before this year? It came and stayed for three months. I think we are finally in the clear (fingers crossed!). I might be jinxing myself but seriously. The ugly brown grass has emerged so I have hope that it will soon turn green.
Now on to food, a totally normal transition from weather, right? Today's recipe for Turkey, Kale and Brown Rice Soup seems like the perfect transition soup as we enter spring. This soup is on the lighter side but still filling and satisfying with the hearty brown rice, turkey and healthy kale. The flavors remind me of other Italian favorites, like minestrone, with the diced tomatoes and vegetables.
I found this recipe in my Giada's Feel Good Food cookbook that I got for Christmas. It has some great, healthy recipes that are perfect for the warmer spring and summer months. I highly suggest checking it out if you are in the market for a new cookbook.
Cheers to warmer temperatures, green grass, my toddler running around the park and grilling season. Oh, and I promise to stop complaining about the weather! 😉
Save your favorite recipes toyour personal recipe box with the

button on all my recipes! Create a Meal Plan with your "favorited" recipes and the ingredients will automatically be added to your own Grocery List!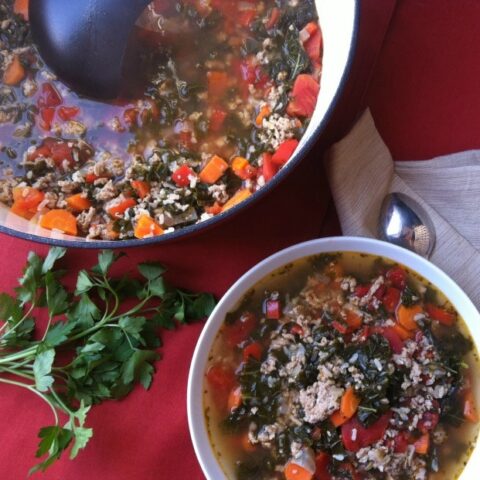 Turkey, Kale and Brown Rice Soup
Turkey, Kale and Brown Rice Soup is a flavorful soup that is perfect for Spring and uses vegetables, kale, ground turkey and brown rice to make a satisfying and hearty meal.
Ingredients
2 Tablespoons olive oil
3 large shallots, chopped
3 medium carrots, peeled and chopped
1 large red bell pepper, chopped
1 lb. ground white turkey meat
1 Tablespoon herbes de Provence
5 cups chicken broth, low sodium
1 (15 oz) can diced tomatoes
1 cup brown riced, cooked
1 small bunch kale, center ribs removed, leaves chopped (4 packed cups)
Salt and pepper to taste
Garnish:
Chopped fresh flat-leaf parsley leaves
Parmesan cheese
Instructions
In a large pot heat olive oil over medium-high heat. Add the shallots, carrots, and red pepper and saute, stirring frequently until slightly soft, about 8 minutes.
Add the ground turkey and stir the meat until it is white and the edges begin to color, about 5 minutes. Add the herbes de Provence and stir for 1 minute.
Add the chicken broth and diced tomatoes and bring to a boil.
Stir in the kale and salt and pepper to taste. Reduce the heat to medium-low, cover and simmer for 13 minutes. Add cooked brown rice and continue to simmer for 2 minutes.
Season with additional salt and pepper to taste.
Serve soup warm with flat-leaf parsley and Parmesan cheese.
Slightly adapted from
Giada's Feel Good Food
For more delicious soups check out my Soups Pinterest board!
I would love to connect with you on Facebook, Pinterest, Twitter, Google + and Instagram.
Enjoy!
Julia