Hi everyone! 
This past weekend was a fun filled one.  I celebrated being another year older which was fun.  My husband and son baked me a cake (German chocolate-yum!). It turned out great even though my son threw a few extra ingredients in! He is quite the boss in the kitchen!
We went apple picking in Wisconsin which was so much fun. I now have a whole lot of apples to eat and use up! I always love spending a fall day among the apple trees and it was especially fun watching my son experience it and eat apple after apple off of the trees!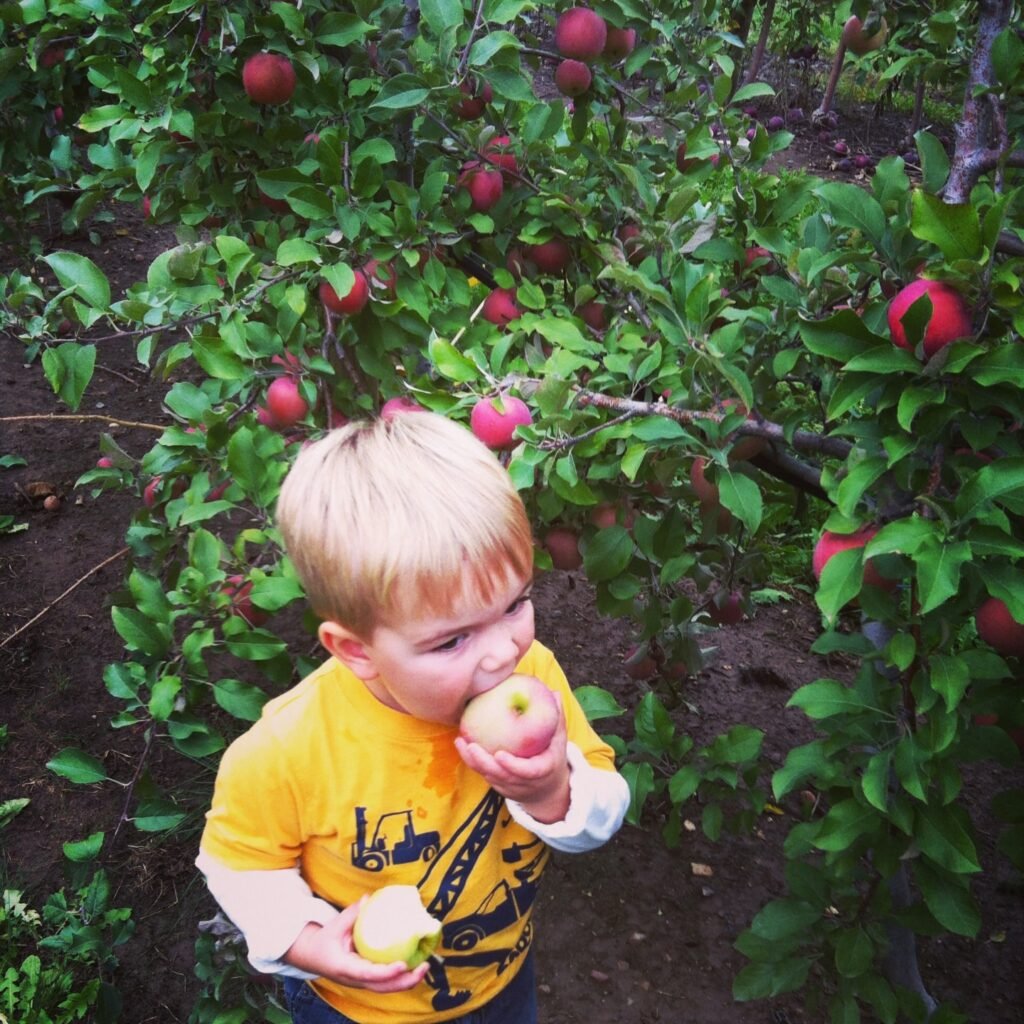 And he picked out a pretty great pumpkin that needs carving.

The Sunday after a busy weekend always calls for a special treat. I love making things like pancakes, waffles, coffee cake or muffins to enjoy with my family on a lazy Sunday morning.  These Cinnamon Yogurt Blueberry Muffins hit the spot and were easy to throw together Sunday morning.
I love that they use yogurt–helping keep the muffins moist and adding that healthy component to them.
You could easily substitute the blueberries for any berry that you have on hand and they would turn out great.
Cinnamon Yogurt Blueberry Muffins
Recipe type:
Muffin, Breakfast
Prep time:
Cook time:
Total time:
These Blueberry Cinnamon Muffins make a great breakfast treat or snack with the yogurt creating a moist texture.
Ingredients
1 cup whole wheat flour
2 cups minus 2 tablespoons all-purpose flour
1 teaspoon baking soda
2 teaspoons baking powder
Pinch of salt
1 tsp. cinnamon
¼ tsp. Nutmeg
¼ tsp. allspice
¼ tsp. cloves
1 cup sugar
½ cup vegetable oil
1 egg
1 cup low-fat plain yogurt
2 cups fresh blueberries
1 tsp. Vanilla Extract
Instructions
Preheat oven to 385 degrees.
In a large bowl sift flour, baking soda, cinnamon, nutmeg, baking powder, and salt. Set aside.
In a mixer mix together sugar, oil, vanilla, egg, and yogurt. Add the dry ingredients and mix on low until just combined.
Add blueberries to mixture and stir for 5 seconds.
Add mixture to muffin pan lined with muffin/cupcake liners (12 for large muffins, 18 for small).
Bake 20 to 25 minutes (until a toothpick comes out clean) and allow to cool completely.
Recipe adapted from The Pioneer Woman
Enjoy!
Julia