While on vacation in Traverse City we spent a day on Old Mission Peninsula. I love it there! It has everything from wineries, to cute shops, to B&B's, to antiques and not to mention beautiful and breathtaking views.
We spent the a good portion of our day doing a little winery hopping. I can't lie wine is one of my favorite things and Traverse has some great ones! Old Mission Peninsula has over 7 wineries, each unique and beautiful in their own way.
Our first stop was Black Star Farms which has two locations, and yes we went to both.
The reason is that we heard the location on Leelanau Peninsula housed a farm and had a restaurant that Mario Batali was raving about called Hearth and Vine. After eating there I knew what he was talking about right away. It is an unassuming little café with fresh farm finds like pickled vegetables and leeks. They offer Blackstar Farms wine and make up some great fresh food. My husband and I split the caprese and the potato pizza (Yukon potato, Leelanau cheese raclette and fromage blanc, roasted garlic oil, arugula and black pepper)..
If that doesn't make your mouth water I don't know what will. My husband, the pizza connoisseur was a little nervous about a potato pizza but when I saw him grabbing seconds and thirds I knew this pizza was as good as I thought it was.
The other location in Old Mission Peninsula has a beautiful tasting room offering 5 tastes for $5. They have some solid wines and I especially fell in love with their 2011 Pinot Noir. They describe it as bright cherry and hints of cedar on the palate with a cocoa and light vanilla nose and they are totally spot on. So good! It is so good that after a clumsy mishap (I swear I hadn't had that much wine yet) I dropped the bottle we bought and I liked it so much we had to make a trip back before we left to get another bottle.
Next stop was Peninsula Cellars which is an 1896 historic school house. Very cute and their wines are named things like detention. You get six tastings for free..yes, I said free. It's hard to find free these days. This place isn't fancy but they have decent wines and staff is friendly and knowledgeable.
Next we stopped at Chateau Chantal, my favorite for the view alone. It is breathtaking. We grabbed a glass of their chardonnay, which we love, and sat outside to look at this view…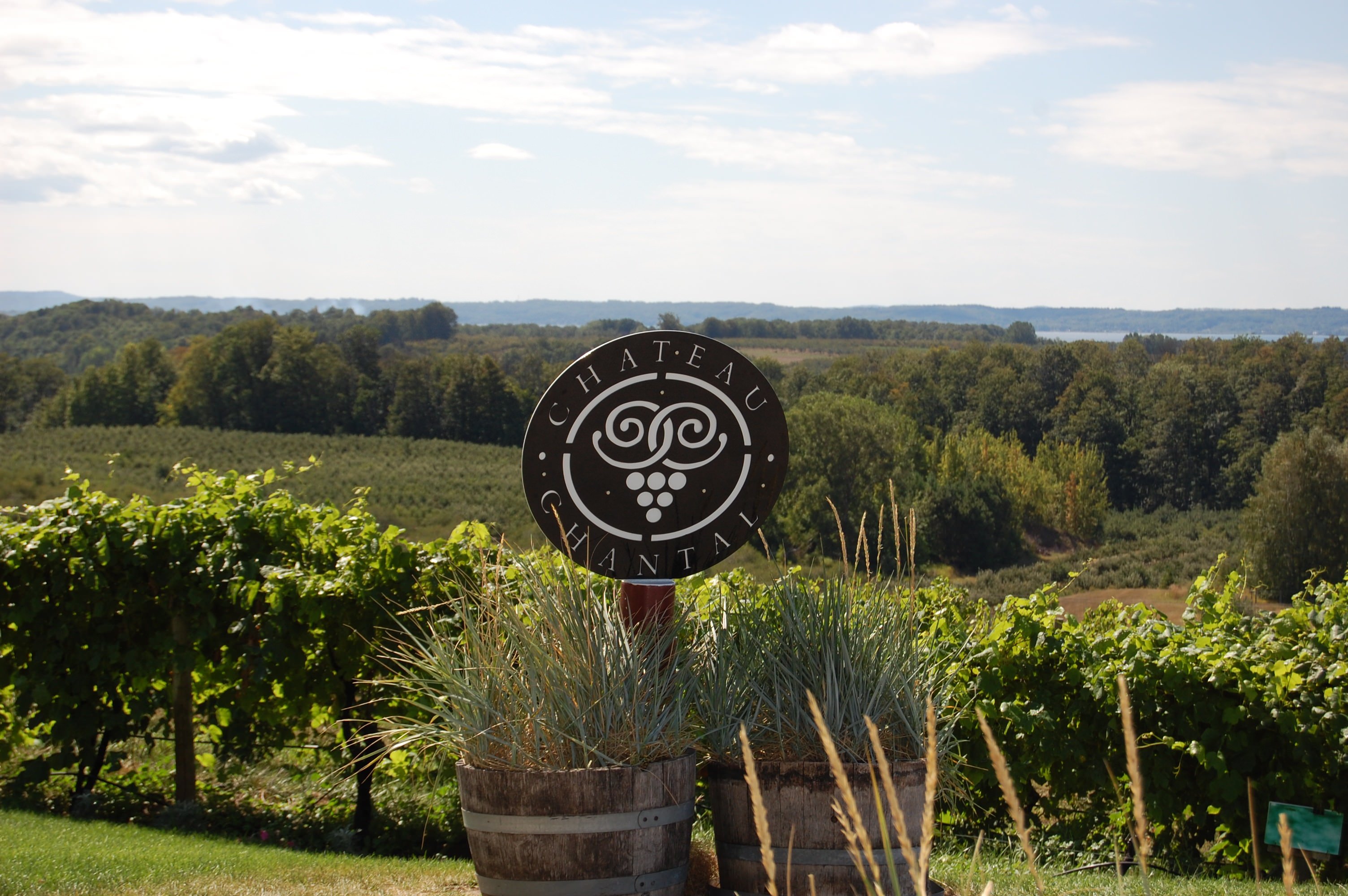 To only be woken up by our one year old 15 minutes into his nap..but hey, these days I'll take those 15 minutes as a gift.
Last on our wine hopping was 2 Lads Winery. My husband's favorite winery. It is modern and has a fabulous view.
They make some great wines, including one we always buy, the cab franc..a wine that is very well known in the Michigan wineries.
After we did these wineries we headed to the end of the peninsula to check out the lighthouse which is set on Lake Michigan and is really beautiful. I don't think pictures do it justice..but here are a few.
My son Will is hiding in that baby carrier enjoying the views!
On our way back we spotted a place called the Jolly Pumpkin which did beer tastings. After our adventures in wine tasting we decided to mix it up a little bit and taste some beer. There were some great ones including a great pale ale. The restaurant attached to this place is called the Mission Table which I have heard great things about but haven't gotten to try yet. After seeing the beautiful set up they have and the even better menu I think we need to eat here next time. Look at this place..
That's a quick snapshot of Old Mission Peninsula. Hopefully you get a chance to make a trip up there and check out all that is has to offer. You will not be disappointed!
You might even see a few of these…