This Asian Pasta Salad is simple to make and the perfect side dish for a bbq or picnic this summer. Your favorite Asian flavors are combined with pasta and sweet dressing. Your guests will love this!
I am an official ambassador for Dole. Dole provided me with compensation for my time. As always, all opinions expressed in this post are mine.
ASIAN PASTA SALAD
Summer is in full swing in my house and the kids are officially on break. School ended a couple of weeks ago and I can't believe it! When summer arrives at our house things get pretty busy between camps, baseball and summer fun. Of course with summer comes picnics and bbqs which requires easy side dishes like today's Asian Pasta Salad.
The Asian Pasta Salad uses the new DOLE® Bountifulô Sweet Thai Salad Kit. Aside from using the salad kits in pasta salads I also really like them for meal prep. One thing I like to make sure I do in the warm months is meal prep so I am not scrambling last minute for get healthy meals on the table.
The DOLE® Bountiful Salad Kits come in four new flavors: Fiesta Ranch, Sweet Thai, Lentil Cucumber and Triple Quinoa. They are all unique and really flavorful. I especially love the Sweet Thai and the Lentil Cucumber.
The nice thing with a salad kit like this is that everything comes in one bag making it super easy for on-the-go meals, a quick salad with dinner or a full lunch by adding plant-based protein to the salad. Today's Asian Pasta Salad uses the meal kit and mixes it with pasta and a few extra ingredients to create a great picnic or potluck side dish.
WHAT INGREDIENTS ARE IN AN ASIAN PASTA SALAD?
Today's pasta salad uses a DOLE® Bountiful Sweet Thai Salad Kit mixed with your favorite pasta. Lets talk about what is in the salad kit that makes this salad so delicious plus a few add-ins that I put in the salad.
RED RICE: The Sweet Thai salad kit includes red rice. I love the red rice in the pasta salad. It adds a nice texture to the vegetables. If you can't find the salad kit in your area feel free to use brown rice or white rice that you have on hand.
BEANS: Black beans and edamame are the perfect addition to this Asian style pasta salad. They both offer protein and flavor!
VEGETABLES: The salad kit includes matchstick carrots. I always like a lot of vegetables in my salads so I threw in a some diced cucumber that I had in the fridge. Other ideas to add to the salad are bell pepper, peas, tomatoes, eggplant and zucchini.
GREENS: The greens in this salad offer you a good dose of vitamins and are a nice addition to the pasta salad! This mixture includes romaine and iceberg. Other greens that would pair nicely are bok choy, kale or spinach.
PASTA: I used a medium sized pasta in this salad. Feel free to use whatever you like or even try zucchini noodles in place of pasta.
DRESSING: The nice thing about a salad kit is that it already includes the dressing. Just open the packed and toss the salad in the dressing. I love the sweet flavor in this salad. You can also use your favorite store brought dressing with this salad, like a peanut style salad dressing.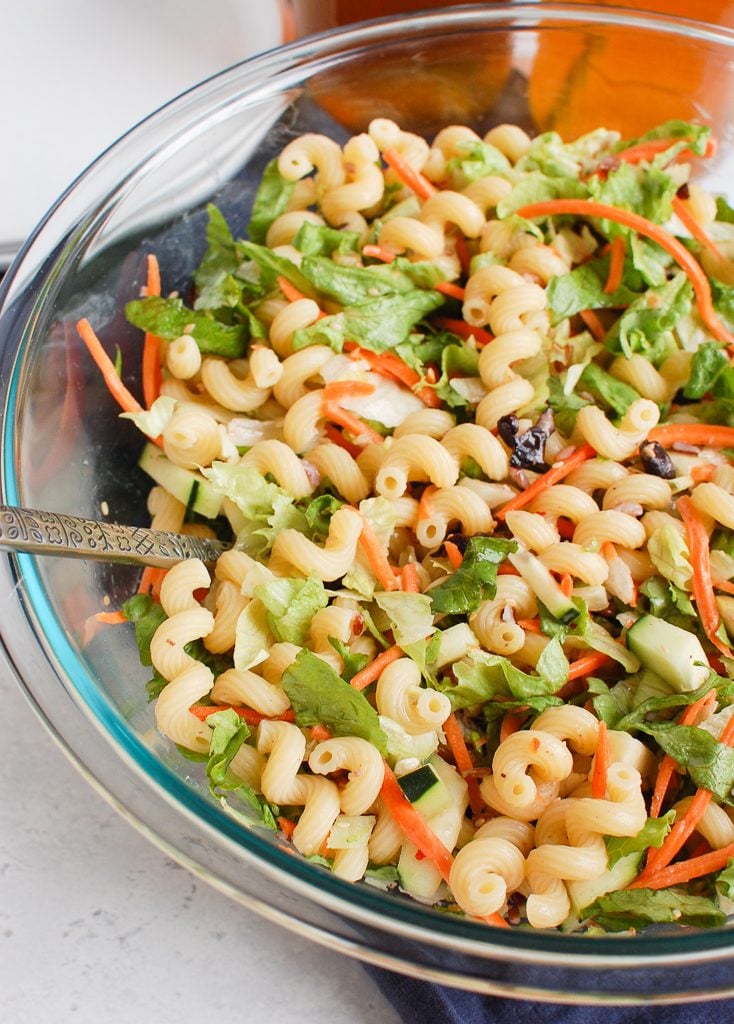 One of my favorite thing about the new DOLE® Bountiful salad kits is how easy they are to put together. They are perfect for any lunch or dinner but also for a quick pasta or quinoa salad. You open the package, combine the ingredients and add the salad dressing. I like to keep two or three of these in my fridge each week for meal prep. Mike likes having these portioned out in the fridge during the week so he can add a protein and have lunch ready for work.
HOW DO I MAKE AN ASIAN PASTA SALAD?
This salad is so easy to make because of that DOLE® Bountiful Sweet Thai Salad Kit. Pick up that salad at your local grocery store in the produce aisle, cook your pasta and add anything additional that you might want.
If you can't find the salad kit in your area you can create this salad on your own with the following ingredients:
8 ounces of Pasta
1 cup Matchstick carrots
1/2 cup Brown rice or red rice
1/2 cup cooked edamame and 1/2 cup cooked black beans
1 cucumber, peeled and diced cucumbers
1/2 cup freshly chopped cilantro
1/4 cup of your favorite Asian style salad dressing, like a sweet thai style or a peanut dressing
WHAT OTHER INGREDIENTS CAN I ADD TO THIS SALAD?
NUTS: Nuts and seeds are a great way to add crunch and nutrition to your salad. I especially love sunflower seeds, macadamia nuts, pecans or cashews.
BEANS: This salad kit uses black beans and edamame. You can also use chickpeas or white beans, both would be great additions. By the way if you like salads with beans in them try this Black Bean Salad or this Three Bean Salad. Both are favorites in the summer.
VEGETABLES:When I make pasta salads I like to open my fridge and add whatever vegetables I have. Some that I like in this salad including tomatoes, zucchini, eggplant, green beans and peas.
PROTEIN: If you want to add protein beyond the plant-based protein to this salad I like grilled chicken, salmon or shrimp. Tofu is also a nice addition. My favorite way to eat this salad is to turn it into an Asian Pasta Salad with Chicken.
Asian Pasta Salad
Ingredients
8 ounces of your favorite pasta, cooked al dente, drained and rinsed
1 english cucumber, diced
Fresh cilantro, chopped
Instructions
Cook the pasta according to the package until al dente. Drain and rinse. Put the pasta in a large mixing bowl.
Make sure the pasta is cool and then add the salad kit in and mix well. Add the cucumbers and fresh cilantro.
Toss in the salad dressing until everything is coated in the dressing.
Enjoy!