Moroccan Carrot Red Lentil Soup is a meatless soup recipe packed full of flavor! Cumin, turmeric, coriander, paprika and cinnamon compliment the red lentils and carrots, creating a creamy, filling soup.
MOROCCAN CARROT RED LENTIL SOUP
Lets talk soup. I eat it all year long and this is one I keep on rotation.
Moroccan Carrot Red Lentil Soup is one of my favorite soups of all time and remains one of the most popular recipes on my site. It is one of those soups that keeps you coming back because of the rich, warm spices and the healthy ingredients.
This soup is filling and can stand alone as a meal. Or you can pair a nice salad, some crusty bread or naan and a side dish and call it a night.
Those that know me well, know how much I love soup. When I go to a restaurant, I almost always start my meal with a warm cup of soup. If you like creamy soups with a lot of flavor, this Moroccan Carrot Red Lentil Soup is the soup for you. I promise you won't be disappointed!
Last year I shared a slightly different recipe for Moroccan Red Lentil Soup. Today's Moroccan Carrot Red Lentil Soup is a slight variation of the original Moroccan Red Lentil Soup I shared. This new version has extra carrots that create a sweet flavor that compliments the lentils and spices nicely.
If you are looking for a soup that you can come back to time and time again, this is the soup for you.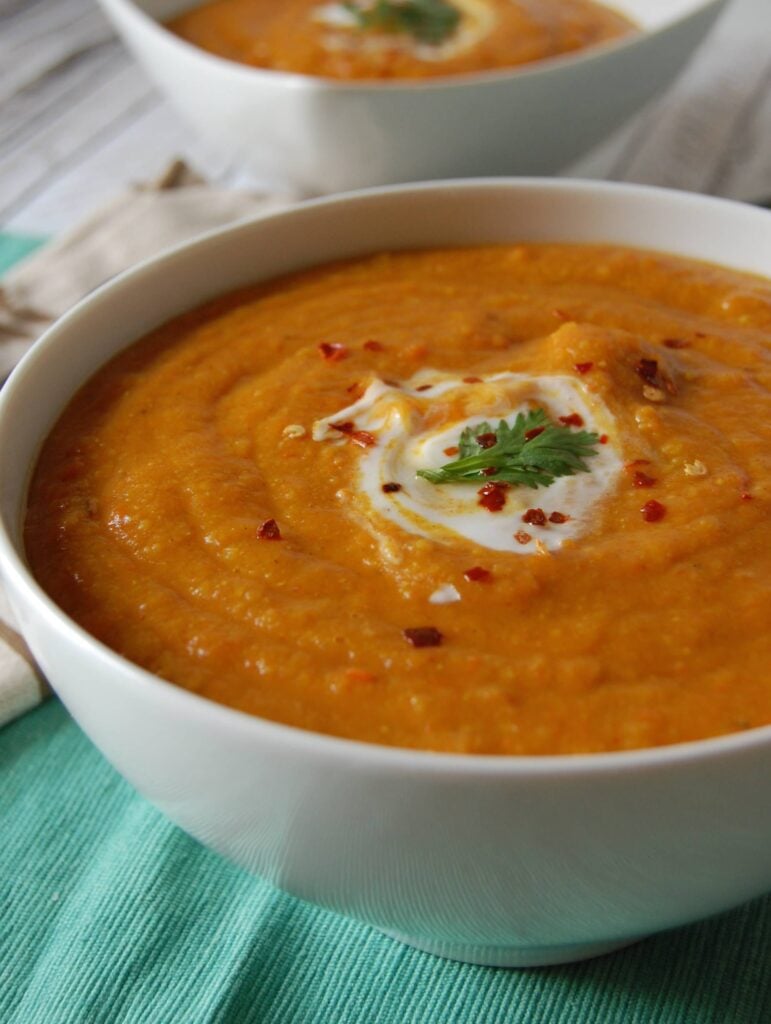 Not only is Moroccan Carrot Red Lentil Soup packed with flavor, it has fiber, protein, beta-carotene and vitamin A, giving you a lot of nutritional value in one meal. You can't beat that.
Did you know that lentils have the third highest level of protein, by weight, of any legume or nut, after soybeans and hemp. That is impressive! And they contain folate, vitamin B1, minerals and dietary fibre.
As summer draws to an end I know a lot of you are starting to think about soups that you can make for your family. When the temperatures get cooler, this is the perfect soup to simmer on the stove.
Another thing I like about this soup is the variety of garnishes that pair nicely with it.
Set out a variety of toppings and let your family and guests choose what to put in depending on their tastes. For me the perfect toppings are a dollop of cool, creamy yogurt (plain or Greek yogurt works great), freshly chopped cilantro and a few sprinkles of crushed red pepper. Other garnishes that work nicely are fresh squeezed lemon juice or parsley.
If you like to meal prep this is a great soup to use for that. You can make a big batch and freeze half for later. I love having this one hand to pull out for lunch or dinner when I am in a rush. It is so nice to have a cup of this in the freezer for those busy days.
Sometimes when I am feeling adventurous, I try to modify the recipe to add things like grilled chicken, chickpeas, butternut squash, zucchini, quinoa or couscous. The options are endless and so many ingredients pair nicely with this soup. But time and time again I make this recipe as is, because it is that good!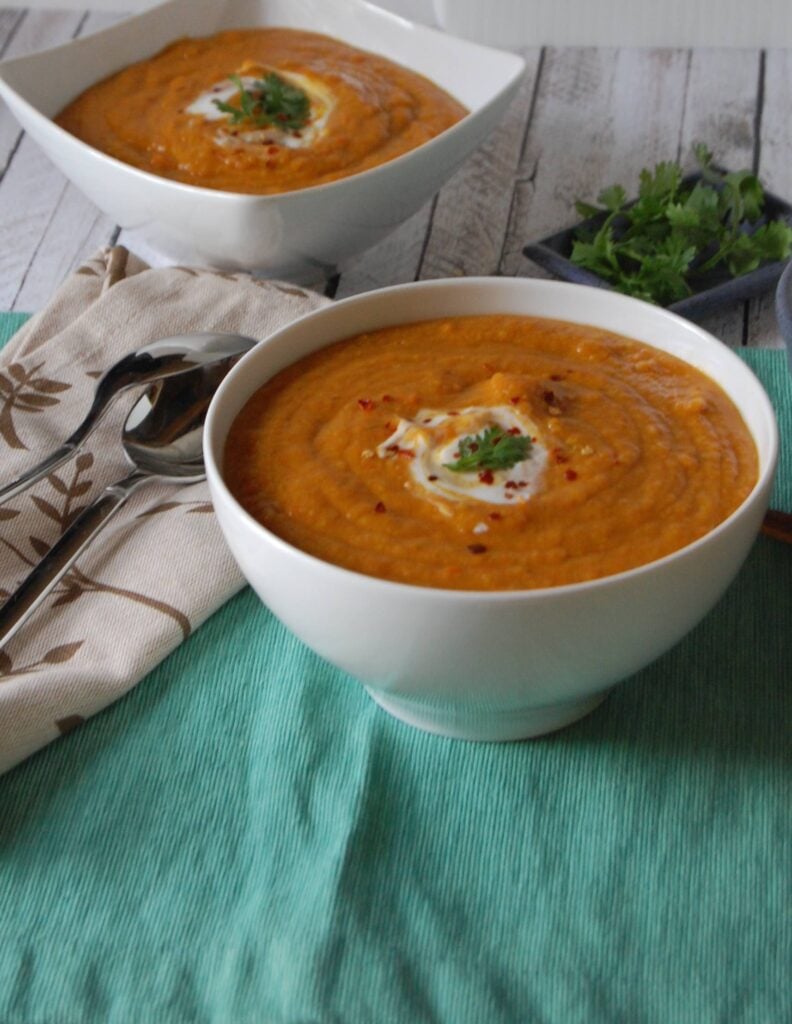 Here are few notes and ways you can modify this recipe:
When using lentils make sure that you rinse them until the water runs clear. You will also want to pick through them and take out any debris/other grains.
You can easily add other vegetables to this soup. Try zucchini, cauliflower, fire roasted tomatoes or bell peppers.
You do not have to puree this soup and can eat it as a chunkier soup.
Try adding beans to this soup. I like to add white beans or chickpeas.
Top this soup with a variety of garnishes including feta cheese, cilantro or parsley, a dollop of yogurt or sour cream and crushed red pepper.
Add some greens to your soup. Try spinach, kale or escarole. You will add it towards the end of cooking and let it wilt.
Bulk up the soup with a grain, like quinoa, or a small pasta like orzo.
Other additional I really enjoy is grilled chicken cut into chunks or butternut squash
Print
Moroccan Carrot Red Lentil Soup
Author:

Prep Time:

15 minutes

Cook Time:

35 minutes

Total Time:

50 minutes

Yield:

6

Category:

Soup, Dinner

Cuisine:

Moroccan
---
Description
Moroccan Carrot Red Lentil Soup is packed full of the flavors of cumin, turmeric, coriander, paprika and cinnamon that complements the red lentils and carrots and creates a creamy, filling soup.
---
Ingredients
2 Tablespoons olive oil
1/2 medium sweet onion, chopped
3 garlic cloves, minced
2 cups chopped carrots or about 5 medium carrots, peeled and chopped
1 teaspoon cumin
1 teaspoon turmeric
2 teaspoon coriander
1/2 teaspoon paprika
1/4 teaspoon cinnamon
2 cups red lentils, rinsed until water runs clear
1-15 oz can diced tomatoes
4 cups vegetable broth
Salt and pepper to taste
Garnish:
Fresh cilantro or Italian parsley
Lemon wedges
Crushed red pepper
---
Instructions
Heat 2 Tablespoons olive oil in a large pot over medium heat. Sauté the onion and garlic until soft, about 2 minutes then add the spices and continue to sauté about 4 minutes. Add the carrots and sauté until carrots are tender, about 10-12 minutes.
Add the vegetable broth, diced tomatoes and lentils and stir to combine. Simmer on low heat for 20 minutes, or until lentils are tender.
You can eat the soup as is with the chunks of carrots, lentils and tomatoes or you can use a handheld immersion blender or regular blender to create a creamy soup.
Serve the soup with fresh cilantro, crushed red pepper and fresh lemon juice.
---
Notes
This recipe makes 6 cups of soup.
This soup freezes very well if you have leftovers.
You can use chicken broth instead of vegetable broth.
If you want a bit thicker of a soup add 2-3 Tablespoons of tomato paste once the onion, garlic and carrots are cooked.
Some other additions that are nice include quinoa or couscous, chickpeas, grilled chicken, butternut squash or zucchini.
---
Adapted from my Moroccan Red Lentil Soup which was adapted from Culinate