This easy Egg Sausage Casserole is perfect for brunch or Christmas morning. Your guests will love waking up to this hearty, and healthy casserole that mixes eggs, turkey sausage, croutons, spices and cheese. You can prepare this ahead of time and bake the next morning!
EGG SAUSAGE CASSEROLE
Have you set your menu for the holidays yet?
Aside from the main meal there are many recipes you will make that include eggs like today's Egg Sausage Casserole or this Southwestern Breakfast Casserole.
The best part of these casserole recipes is that they are filling and easy to make.
Of course aside from breakfast or brunch recipes I also love cookies this time of year, especially these Oatmeal White Chocolate Peppermint Cookies and these Peanut Butter Pretzel Chocolate Chip Cookies.
Eggs are one of the most important ingredients in holiday cooking and baking, and all year long! Eggs add moisture, color, flavor and nutritional value to recipes.
And as a resident of Ohio I am proud that Ohio is ranked No. 2 in the nation for egg farming, producing about 9 billion eggs a year.
There's a good chance the eggs you will use this holiday season for holiday baking came from an Ohio egg farm.
Visit OhioEggs.com to meet more egg farming families.
Ohio egg farmers are proud to provide healthy, safe and affordable eggs to consumers year-round, while protecting the environment for future generations.
We eat a lot of eggs in our house. We often rotate between Greek Baked Eggs, Caprese Egg Muffins, Mediterranean Vegetable Frittata, Mediterranean Egg Scramble or these Mediterranean Quiche Wontons.
Eggs are a holiday staple.
In fact, more eggs are consumed during the winter holiday season than any other time of the year, including Easter. Start your holiday mornings with eggs!
One large egg contains 6 grams of high-quality protein to keep you feeling fuller longer and energized all day.
Today's recipe for an Egg Sausage Casserole uses eggs, turkey sausage, milk, croutons, spices and cheese that are baked into a delicious casserole.
It is so easy to put together and can be prepped the night before and baked the next morning.
Your guests will love waking up to this on Christmas morning or sharing it at a brunch.
ARE EGGS NUTRITIOUS?
Eggs are a great source of vitamins and protein.
One large egg has 13 essential vitamins and minerals, high-quality protein, unsaturated fats and zero carbs or sugars, all for just 70 calories.
They are one of the few foods that are a naturally good source of vitamin D.
You can feel good about adding eggs to your menu year round and especially in those holiday dishes!
HOW LONG TO BAKE AN EGG CASSEROLE
You want to cook an egg casserole just long enough so it's set, this keeps the inside fluffy.
I bake this egg casserole for about 40-45 minutes or 45-50 minutes for extra crispy edges.
To test if it's cooked through, insert a knife in the center of the egg casserole and ensure it comes out clean.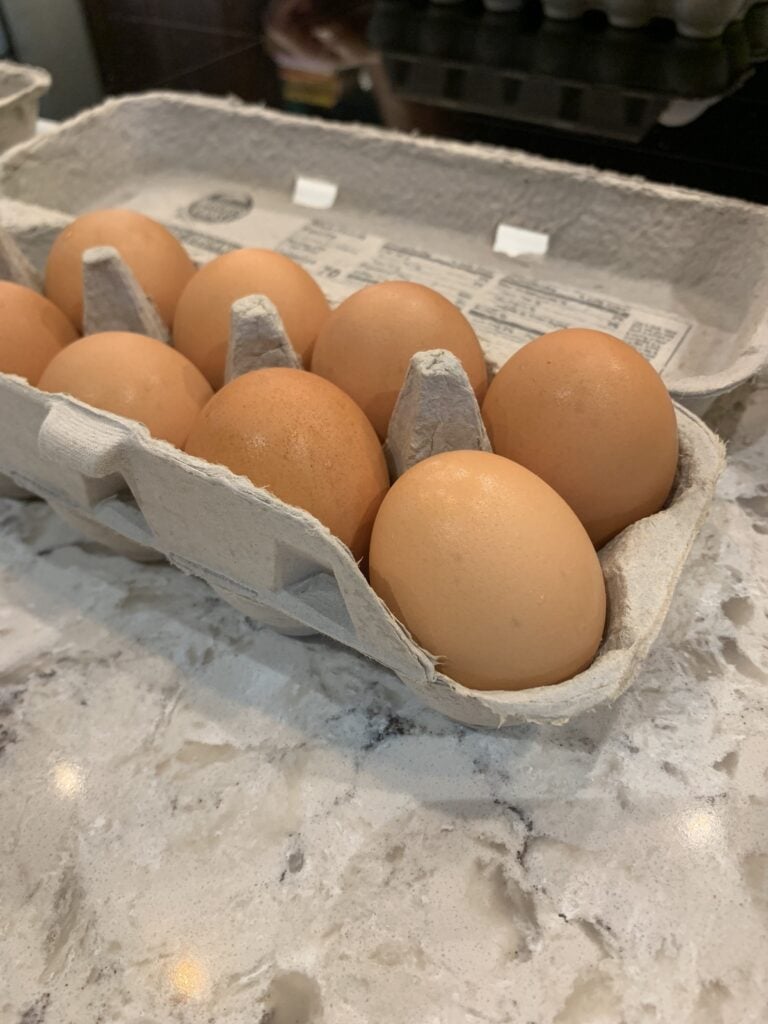 TIPS FOR COOKING WITH EGGS
Cut stress on holiday mornings by making a breakfast casserole a few days or weeks ahead, and then freezing! Then, just pop it in the oven when you wake up for a warm and hearty breakfast without the hassle.
When making a baked egg dish, pour the egg mixture on top of the layer of meats, breads, cheeses and vegetables. This helps the egg mixture soak into the ingredients and ensures the dish is moist and delicious.
TIPS FOR BAKING WITH EGGS
Use large eggs in holiday baking! Using a different size egg, without making an adjustment, will affect texture, flavor and consistency. If you don't have large eggs, use this conversion chart to see how to substitute different sizes.

If your recipe calls for multiple eggs, add one egg at a time. This will help prevent a lumpy batter and will allow it to mix evenly.
Use an inexpensive egg separator or a funnel to separate eggs, rather than passing the egg yolk back and forth from the shells or your hands, to avoid contamination when a recipe calls for only egg whites or yolks.
Set eggs out about 30 minutes ahead to safely bring them to room temperature for easy mixing into batter or dough.
Egg Sausage Casserole
This easy Egg Sausage Casserole is perfect for brunch or Christmas morning. Your guests will love waking up to this hearty, and healthy casserole that mixes eggs, turkey sausage, croutons, spices and cheese. You can prepare this ahead of time and bake the next morning!
Ingredients
2 Tablespoons olive oil
1 pound turkey sausage
3 garlic cloves, minced
1/4 cup sweet onion, diced
1/2 red bell pepper, seeds removed, diced
2 cups large croutons
1 1/2 cups of shredded cheese, divided
10 eggs
2 cups milk
1 teaspoon paprika
1 teaspoon oregano
1/4 teaspoon salt
1/8 teaspoon pepper
Instructions
In a large skillet heat the 2 Tablespoons olive oil over medium heat. Suate the garlic and onion for 2 minutes. Add the sausage and bell pepper and cook until browned. Drain the fat and set aside.
Spread the croutons evenly into the bottom of a greased or non-stick 9×13 inch baking dish or casserole dish.
Sprinkle the sausage and 1/2 cup of cheese evenly over the bread.
In a large mixing bowl whisk the eggs and milk. Stir in the paprika, oregano, salt and pepper.
Pour the egg mixture over the croutons and cheese, making sure to spread it evenly in the pan.
Cover with foil or plastic wrap and refrigerate for 2 hours or overnight or up to a day ahead of time.
When you are ready to bake the casserole preheat the oven to 375 degrees F.
Remove from the fridge and sprinkle the cheese on the casserole.
Bake for 40-45 minutes, or until set and the edges are just starting to crisp. If you want extra crispy edges cook for 45-50 minutes. To test if the casserole is done cooking, insert a knife in the center of the egg casserole and make sure it comes out clean.
Let sit for 10 minutes and then slice into squares.
Serve with fresh parasley, green onion, sour cream or hot sauce.
Leftovers will keep well in the refrigerator for up to 5 days. You can reheat in the microwave.
Notes
Feel free to add extra veggies if you like. You can also mix up the cheeses and use whatever you like.
In place of sausage you could also use bacon or ham or just leave it out for a vegetarian version.
I used 2% milk. You can use whole milk for a creamier version.
Visit www.OhioEggs.com and follow the Ohio Poultry Association on Facebook, Twitter, Pinterest, Instagram and YouTube for more egg recipes and to learn about egg nutrition and egg safety tips.
Today's post is sponsored by the Ohio Poultry Association. As always, opinions are 100% my own.