Roasted Carrots and Beets with Tahini is an easy side dish that mixes together roasted carrots and beets with a drizzle of a tahini sauce and toasted pistachios. Roasting vegetables brings out the sweetness and flavor in them. Add this as a side to a meal or a holiday table!
ROASTED CARROTS AND BEETS WITH TAHINI
Roasted vegetables are my jam!
I love the sweetness of roasted vegetables, which is why you can often find them on my table. In my house we have a few favorites including this Roasted Broccoli, Turmeric Roasted Cauliflower, these Mediterranean Roasted Vegetables and today's Roasted Carrots and Beets with Tahini.
There is something so satisfying about a vegetable that has been roasted long enough to bring its natural sweetness out. If you haven't tried roasting beets before you have to try it!
When beets are roasted they become tender, sweet and some of that earthy flavor that people don't always enjoy begins to disappear. Today's Roasted Beets and Carrots is paired with toasted pistachios and a drizzle of a tahini sauce. It is the perfect pairing for the vegetables along with fresh parsley sprinkled on top.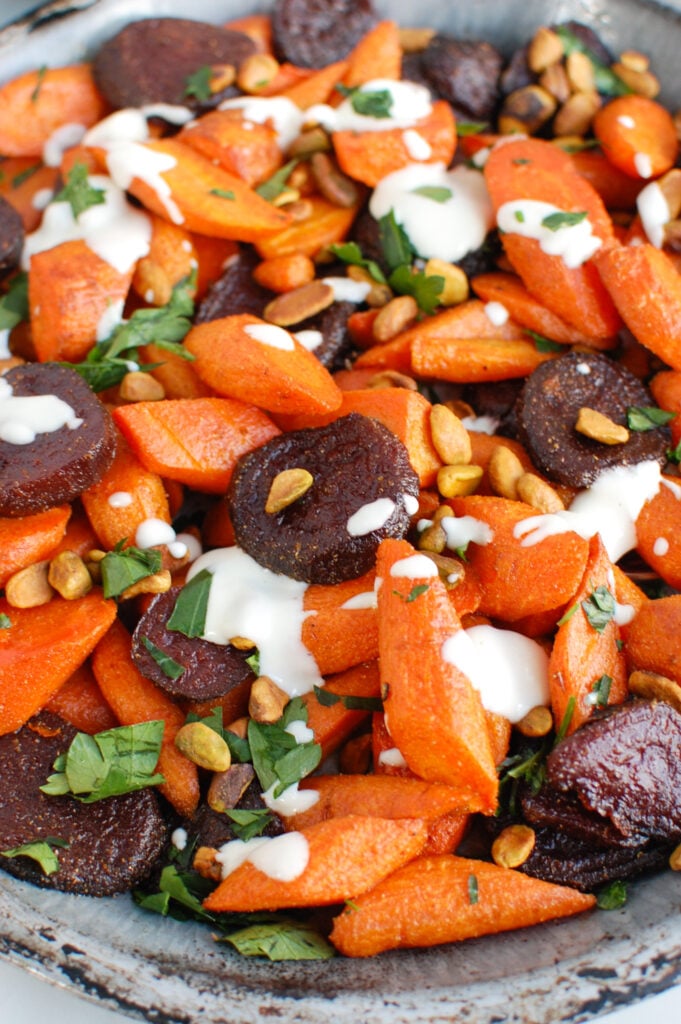 This Roasted Carrot and Beet recipe comes from The Middle Eastern Kitchen: Authentic Dishes From the Middle East that I recently had the opportunity to review. When I got this cookbook in the mail I knew I had to share it with you guys.
Many of you follow my website because you like my Mediterranean recipes or you follow the Mediterranean diet. If that is you, then this cookbook is one you will enjoy!
It offers many of the classic Mediterranean and Middle Eastern dishes like tabbouleh, ADD RECIPES. I love having a wide variety of cookbooks and websites to pull my weekly meals from, especially new Middle Eastern recipes. This is one that not only offers easy recipes but a variety of new and exciting recipes as well.
ARE BEETS HEALTHY?
Beets are low in calories, but high in vitamins and minerals. Packed with essential nutrients, beetroots are a great source of vitamin B9, fiber, manganese, iron, Vitamin C and potassium.
They can help keep your blood pressure in check, fight inflammation, improve digestive health, and support brain health. Adding beets to your diet has so many benefits to your body!
NUTRITIONAL INFORMATION OF CARROTS
Carrots are also a great source of vitamins and minerals. They are a really great source of beta carotene, potassium, fiber, vitamin K1 and antioxidants. Carrots help lower cholesterol levels and improve eye health.
HOW DO YOU MAKE ROASTED CARROTS AND BEETS?
Preheat your oven to 400 degrees F.
Start by chopping your beets and carrots into a consistent size. You can choose a bigger or smaller size but remember that the time you roast the vegetables will vary based on the size. I go for a medium size.
Toss the beets and carrots in olive oil, salt and a pepper. Spread the vegetables on a baking tray in an even layer. If you have a large amount of beets and carrots you have use two baking sheets. Roast for 1 hour.
While the vegetables roast make the tahini sauce and toast your pistachios.
Remove the vegetables from the oven and serve on a platter with fresh parsley, toasted pistachios and a drizzle of tahini sauce.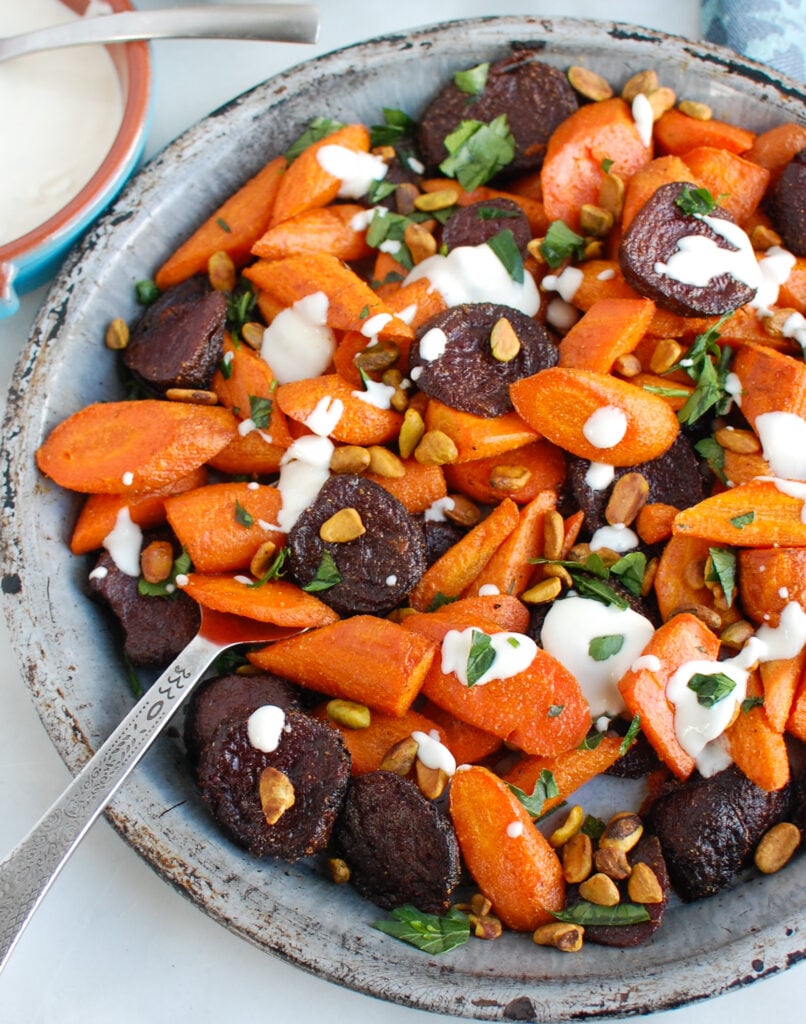 WHAT SHOULD I PAIR THESE ROASTED BEETS AND CARROTS WITH?
I like to pair these with grilled meats. Pair it with Shish Tawook Chicken, or add it to a Mediterranean Steak Rice Bowl or with this Chicken Shawarma Recipe.
Seafood is also a nice pairing. A few of my favorites are this easy Baked Cod with Lemon Recipe, Black Sea Bass or this Garlic Salmon.
You can also pair these Roasted Beet and Carrots with one of my favorite soups. This Red Lentil Coconut Soup or this Homemade Minestrone works nicely.
Roasted Carrots and Beets with Tahini
Total Time:
1 hour
10 minutes
Ingredients
8 small raw beets, quartered
8 carrots, peeled, cut into wedges- same size as the beets
2 Tablespoons olive oil
1 teaspoon cumin
1 teaspoon coriander
1 teaspoon sea salt
1/8 teaspoon pepper
1/4 cup pistachios, toasted and coarsely chopped
Tahini dressing:
1 teaspoon tahini
1 Tablespoons Greek yogurt, plain
1 Tablespoon extra virgin olive oil
juice of 1/2 a lemon
Salt to taste
Instructions
Preheat the oven to 350 degrees F. Mix together the beets, carrots, cumin, coriander, salt, pepper, and olive oil in a roasting plan. Roast for 1 hour, or until tender.
Meanwhile, for the dressing, whisk together the tahini, yogurt, extra virgin olive oil and lemon juice in a bowl. Add salt to taste.
Transfter the roasted vegetables to a platter and drizzle with the tahini dressing and add the pistachios.
Garnish with fresh parsley.
COOKS TIP: To toast a large quantity of whole nuts, preheat oven to 350 degrees F. Spread the nuts onto a baking sheet in a single layer, then roast for 5-10 minutes. Check them regularly, because they will burn easily. For smaller quantities, place them in a dry skillet large enough to hold them in a single layer, and toast them over low heat for 5 to 6 minutes, or until they are evenly golden and smell toasty.