Zucchini applesauce bread is a delicious quick bread, made with garden zucchini and crisp apples. The perfect breakfast treat or afternoon snack, this easy quick bread recipe produces moist, tender zucchini bread, packed with the flavors of fall.
Cooking with my Mom was one of my favorite things to do as a child and still today as an adult. As kids, my sisters and I would always help my Mom make dinner, bake cookies or bread. Zucchini bread was one of my favorite things to make with her—I just loved the way it tasted—moist, and sweet and perfect with a warm cup of tea or for breakfast. This Zucchini Applesauce Bread is everything I have always loved about zucchini bread.
Zucchini Applesauce Bread
As I was making this applesauce bread, I was having flashbacks to my two sisters and I crowded around the kitchen island reading the recipe and measuring out the ingredients. Do you have recipes that do that for you? Bring back childhood memories. I just love those kind of recipes—family treasures that you can pass on to the next generation.
This Zucchini Applesauce Bread recipe is adapted from my Mom's zucchini bread recipe. I decided to use some leftover crockpot applesauce that I had made last weekend and substitute that in for half of the oil. It came out wonderfully! I like the subtle apple taste that the applesauce added—not too overpowering but just enough so you can taste it.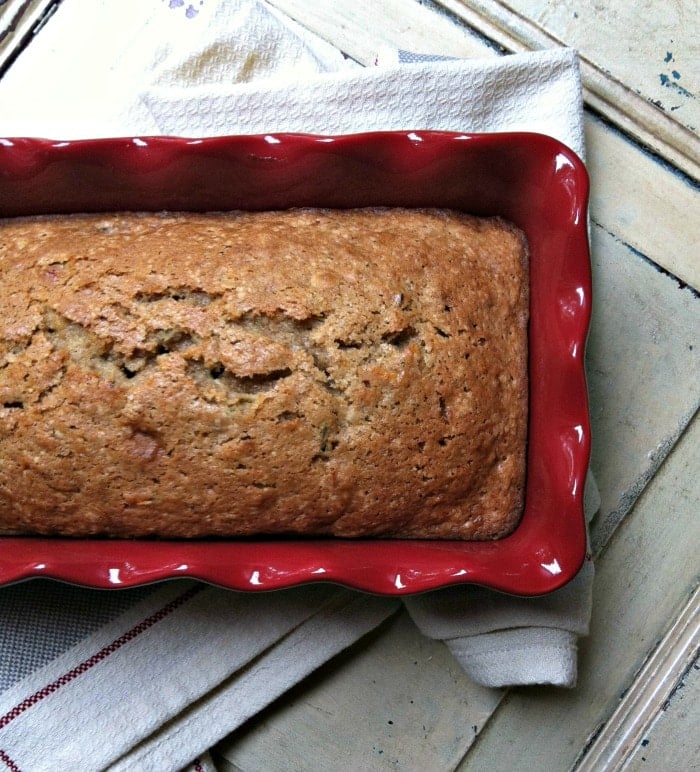 My son loves to snack on zucchini applesauce bread, and it freezes beautifully, so I always freeze one loaf so that we can enjoy it weeks later!
Here are a couple of items you may need to make this easy quick bread recipe:
Note: These are affiliate links; view my Disclosure Policy for details. I earn a small percentage from any purchase you make by clicking on these links. This helps me keep my kitchen stocked with the ingredients I need to create delicious, healthy recipes for you!
8-inch Ceramic Non-Stick Loaf Pan
Zucchini Applesauce Bread
Total Time:
1 hour
5 minutes
A moist Zucchini Bread recipe that substitutes half of the oil for applesauce making it healthier and more flavorful.
Ingredients
3 eggs
1/2 cup vegetable oil
1/2 cup unsweetened applesauce
2 cups sugar
2 tsp. vanilla
2 cups zucchini, unpeeled and grated
2 cups all-purpose flour
1 cup whole wheat flour
1 tsp. cinnamon
1/2 tsp. baking soda
1/2 tsp. baking powder
Instructions
Preheat oven to 350.
In a large bowl combine all-purpose and whole wheat flours, cinnamon, baking soda and baking powder and combine.
In a mixer lightly beat eggs. Add oil, applesauce, sugar and vanilla and mix until well combined. Add zucchini and continue to mix.
On a low speed slowly add the flour mixture into the wet ingredients and mix until combined. Do you not over mix.
In two 9x12in greased loaf pans split the batter evenly and bake at 350 degrees for 45-50 minutes (until a knife comes out clean).
Let the bread completely cool before removing from the loaf pans.
Serve with a nice warm cup of tea.
Notes
I freeze one loaf for later by wrapping it in plastic wrap and then aluminum foil making sure to write the name of the bread and the date on the outside (make sure it is cool before doing this). When you are ready to eat that loaf pull it out of the freezer and let it sit out for a few hours until thawed.
I used whole wheat flour and all-purpose but feel free to use only all-purpose if you want.
I used crockpot applesauce but you can use store bought if you want.
Enjoy!
Julia