Berry Melon Bruschetta is a colorful fruity bruschetta that is simple to make, delicious and a perfect way to celebrate all your summertime favorites. Serve over sliced and toasted whole wheat baguette or as a salsa with tortilla chips. This is sure to be a hit at your BBQs and picnics this summer!

Berry Melon Bruschetta
Berry Melon Bruschetta is the ultimate summer appetizer.
I am always looking for ideas when it comes to finger food and appetizers for summer get togethers.
This is the perfect solution.
It can be used in many ways, not just as bruschetta.
You could pair this with tortilla chips, pita chips or even use it as a topping for grilled chicken or fish. Those dual purpose recipes are the best!
I recently made this and had everything mixed together in a bowl ahead of my guests arriving.
When my guests arrived I quickly toasted up some baguette to serve it on and let everyone top the bread with their own berry melon topping.
If you top the Berry Melon Bruschetta ahead of time the bread gets soggy.
You can even skip toasting the bread and just serve the bread soft–it tastes great either way.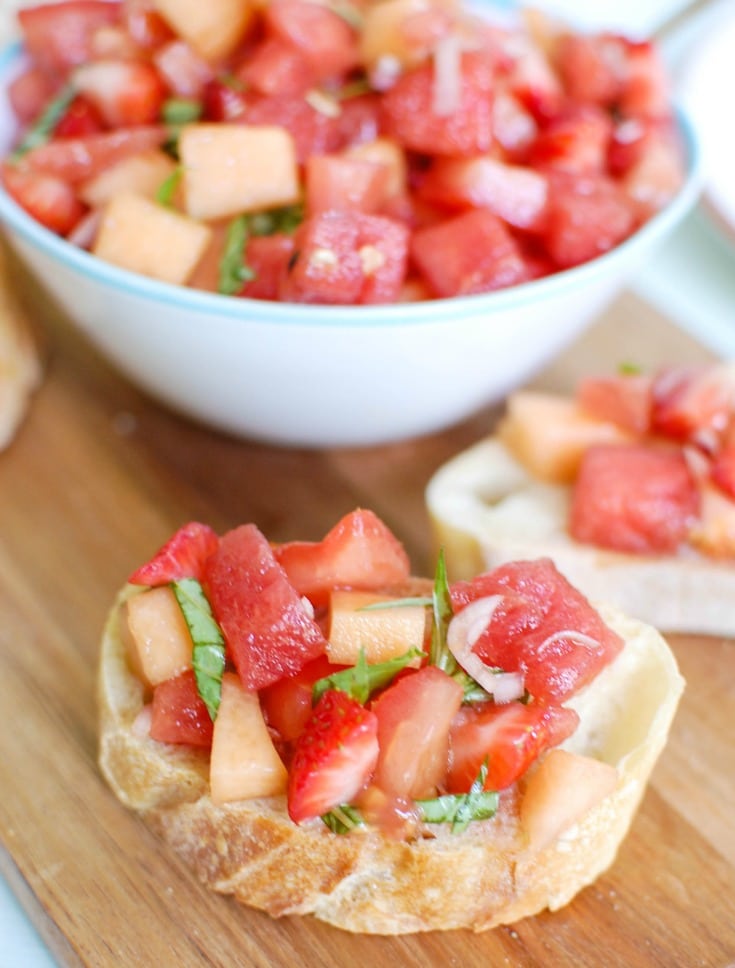 You probably noticed this recipe has a lot of fresh produce incorporated in it.
I am excited to be partnering with Produce for Kids and Meijer this year and their spring campaign that is encouraging shoppers to add more fruits and vegetables to their carts to benefit Jump with Jill . Since 2013,
Produce for Kids has donated $342,823 to Jump with Jill. About 75 schools have been supported through the campaign since fall 2014. That is impressive and a great way to make an impact.
You can head to this website www.produceforkids.com/Homeland to learn more about how you can support the campaign.
I strongly believe that encouraging people to eat more produce is important and can lead to a healthier lifestyle and diet.
And lets be honest, with a recipe like this Berry Melon Bruschetta it also is delicious.
My kids are huge fans of summer fruits so this was a huge hit with them. To be honest, my two year old Drew was eating it by the spoonful. Can you blame him?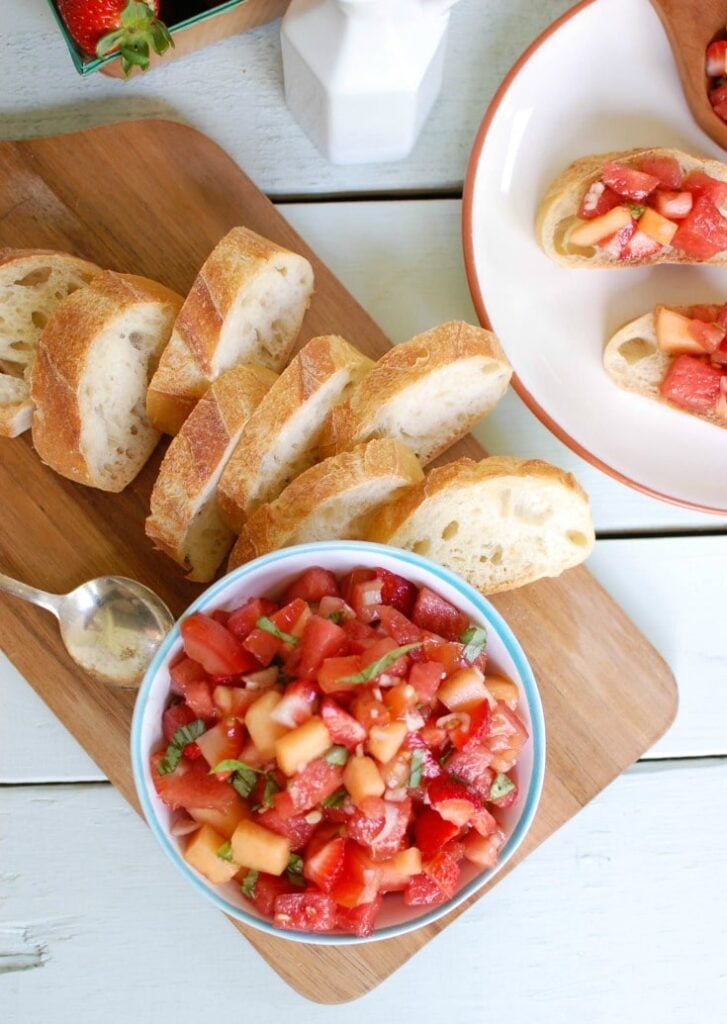 Visit Produce for Kids for more than 200 registered dietician-approve and family-tested recipes, meal planning tools, grocery specific campaign details and healthy tips from real parents.
Berry Melon Bruschetta
Yield: 5

Prep Time: 15 minutes

Total Time: 15 minutes
Ingredients
2 medium tomatoes, diced
1/2 cup watermelon, diced
1/2 cup cantaloupe, diced
8 strawberries, diced
1/2 shallot, finely chopped
1 tablespoon extra virgin olive oil
1 teaspoon balsamic vinegar
3-5 basil leaves, finely chopped
Instructions
Combine tomatoes, watermelon, cantaloupe, strawberries, shallot, oil, vinegar and basil in bowl. Mix well. Salt and pepper to taste.
Top this Berry Lemon mixture on grilled crusty bread or you can bake the bread and make crostinis to put the topping on. Enjoy!
Notes
Try adding fresh mint to the bruschetta!

I also really love this over grilled chicken or fish.

Another option would be to pair this with cinnamon or plain pita chips.

Thanks to Meijer and Produce for Kids for sponsoring this post. As always, all opinions are 100% my own.