Barbecue Pulled Pork is a pork shoulder crock pot recipe, made with a flavorful BBQ sauce. This slow cooker pulled pork recipe makes the perfect sandwich or even a filling for quesadillas!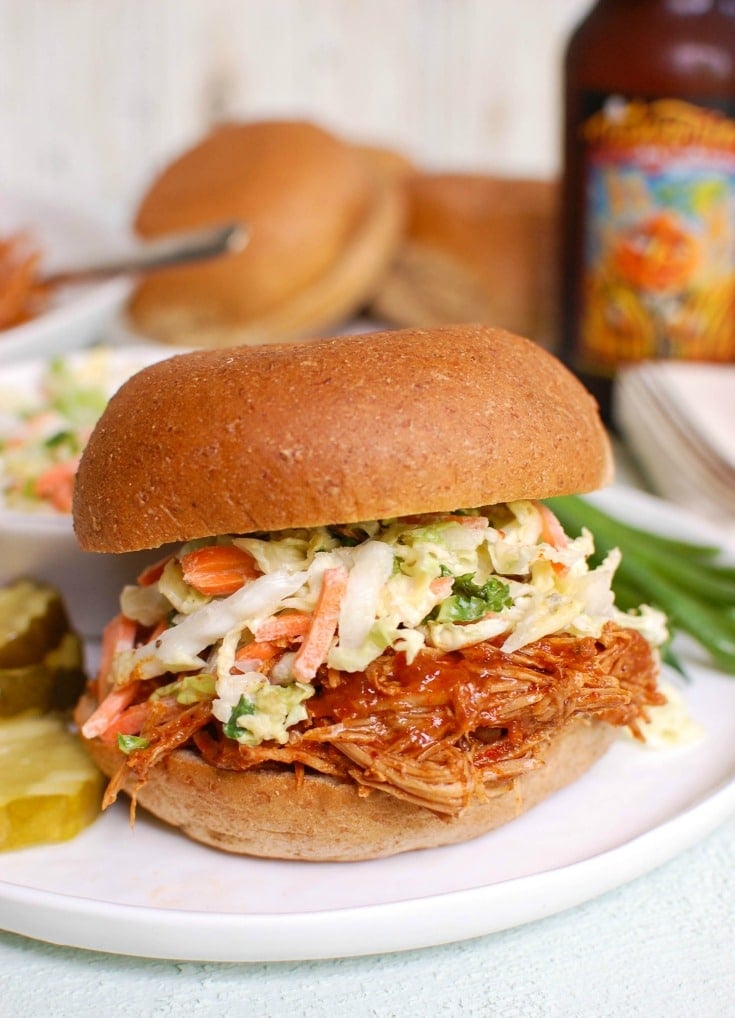 Slow Cooker Barbecue Pulled Pork
We love BBQ recipes in my house!
My husband especially loves them. One of his favorite things to eat is BBQ pulled chicken or pulled pork. Today's Slow Cooker Barbecue Pulled Pork recipe is so easy to make and you know what is going in the sauce. I love that this cooks while I go about my day!
During football season, this Slow Cooker Barbecue Pulled Pork is a must make game day recipe. If you have a group coming over to watch a game, you can easily have this simmering away in your crockpot. It makes great sandwiches, sliders or even a topping for nachos.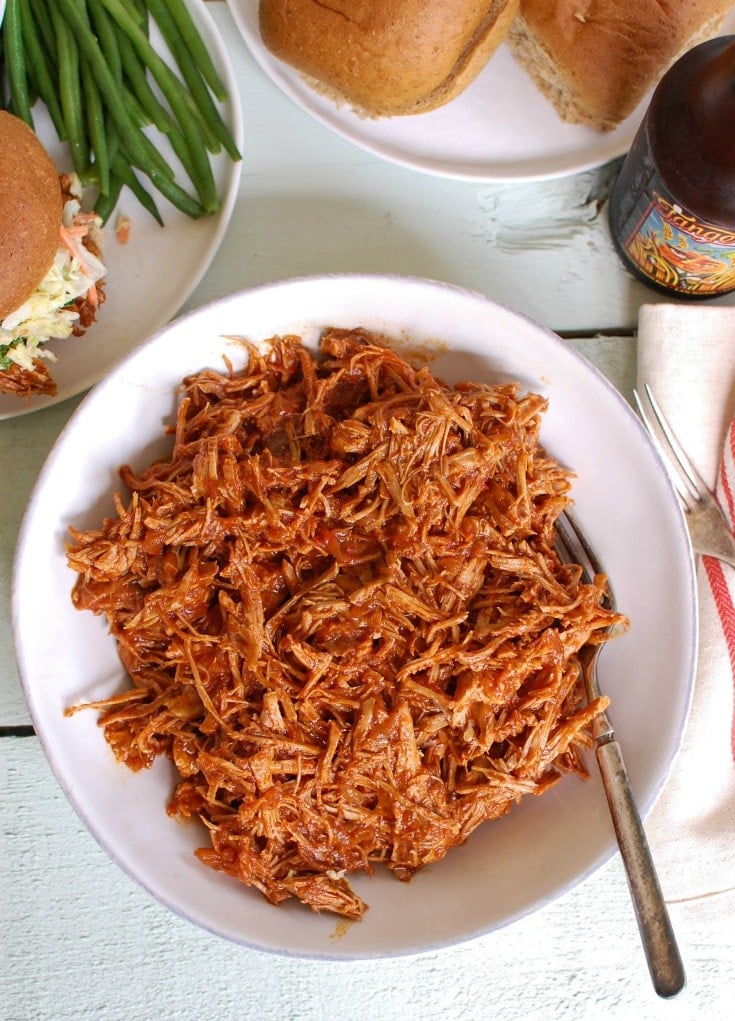 Easy dinners are also a big deal in my house. I am always looking for recipes my whole family will eat that I can throw in the slow cooker in the morning.
When making this barbecue pulled pork recipe, the prep will take you about 15 minutes.
After that you just put the pork and sauce ingredients in the slow cooker, turn it on and let it cook for 8 hours. I don't know about you, but after a long hard day of work who doesn't love coming home to a meal that is pretty much ready to be eaten.
My husband loves BBQ Pulled Pork. Before I met him, I must admit I didn't eat much of it. My mom never really made it growing up or BBQ anything for that matter. I have grown to like it, especially with a really good, spicy BBQ sauce.

WHAT INGREDIENTS ARE IN THIS SLOW COOKER BBQ PULLED PORK?
PORK SHOULDER: The pork shoulder is the start of the recipe and creates the shredded tender pork that can base used in sandwiches, quesadillas or in bowls.
ONION: The onion helps add flavor and makes a nice addition to the shredded pork in the sandwiches.
GARLIC: Garlic is also great for adding flavor when slow cooking meat. Feel free to use more or less depending how much garlic flavor you like.
BBQ SAUCE OR HOMEMADE SAUCE: If you follow my recipe you will see I create a homemade BBQ sauce but you can also just use your own favorite store-bought or homemade sauce.
Check out these other slow cooker recipes:
The Best Slow Cooker Pork Carnitas
Slow Cooker Shredded Pork Tacos
Slow Cooker Italian Beef Sandwiches
Slow Cooker Barbecue Pulled Pork
Total Time:
8 hours
15 minutes
Slow Cooker Barbecue Pulled Pork is slow cooker in your crockpot with a flavorful BBQ sauce. This pulled pork makes the perfect sandwich or even a filling for quesadillas!
Ingredients
3-1/2 lb (1.75 kg) pork shoulder roast
3 Tablespoons olive oil for the pan
2 onions, chopped
5 cloves garlic, minced
2 Tablespoons chili powder
3 bay leaves
1/4 cup tomato paste
1 - 14 oz can tomato sauce
2 Tablespoons brown sugar, packed
2 Tablespoons cider vinegar
2 Tablespoons Worcestershire sauce
Whole wheat buns for serving
Barbecue sauce, for serving
Instructions
Sprinkle both sides of pork with salt and pepper. In a large skillet, heat the olive oil over medium-high heat and brown pork on all sides (takes about 8 minutes). Transfer the pork to the slow cooker.
In the same skillet add the onions, garlic, chili powder and bay leaves and saute for a four minutes, loosening any browned bits in the bottom of the pan (you will start to smell the heat of the chili powder and spices).
Add 1/4 cup water to the pan to help loosen all the flavorful bits and pour everything over the pork in the slow cooker.
Add the tomato paste, tomato sauce, sugar, vinegar and Worcestershire sauce to the slower cooer. Cover and cook on low for 8 hours, until pork is tender.
With two forks shred pork. Pour off excess liquid if there is too much, and add a small amount of barbecue sauce to moisten.
Serve the pork warm on buns making sure to leave additional barbecue sauce on the table for those that want to add it to their pork.
Notes
This BBQ pork freezes well. Just transfer the pork once cooled to a freezer safe ziplock bag and lay flat.