Spicy hummus is a homemade healthy dip, packed with flavor and good nutrition! This works nicely as an appetizer, a wrap or in chicken and hummus bowls.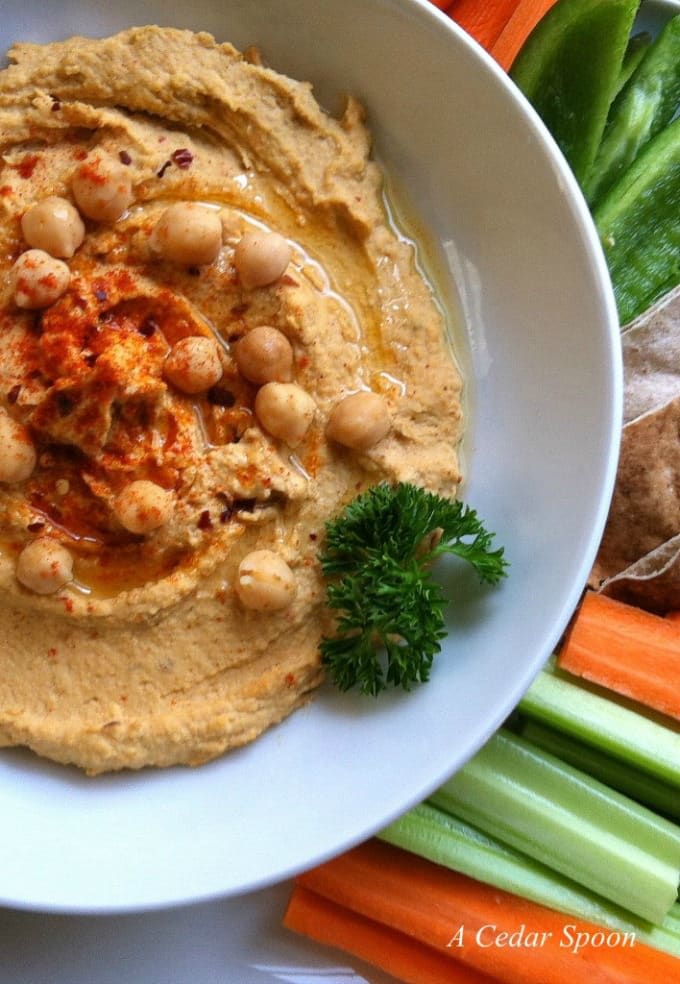 Spicy Hummus Recipe
Are you still planning your Super Bowl appetizers menu? Spicy hummus is a great option to have–not only is it healthy, but the spice will add great flavor to your spread!
The cool crunch of veggies mixed with chickpeas in this creamy Spicy Hummus is a great pair. Since part of my family is Lebanese, we eat a lot of hummus. When I say a lot– I mean a lot! It makes an appearance at almost every family function we have. In my house in Chicago it isn't any different. I love to have hummus in the refrigerator each week as an easy, healthy snack (check out the health benefits here).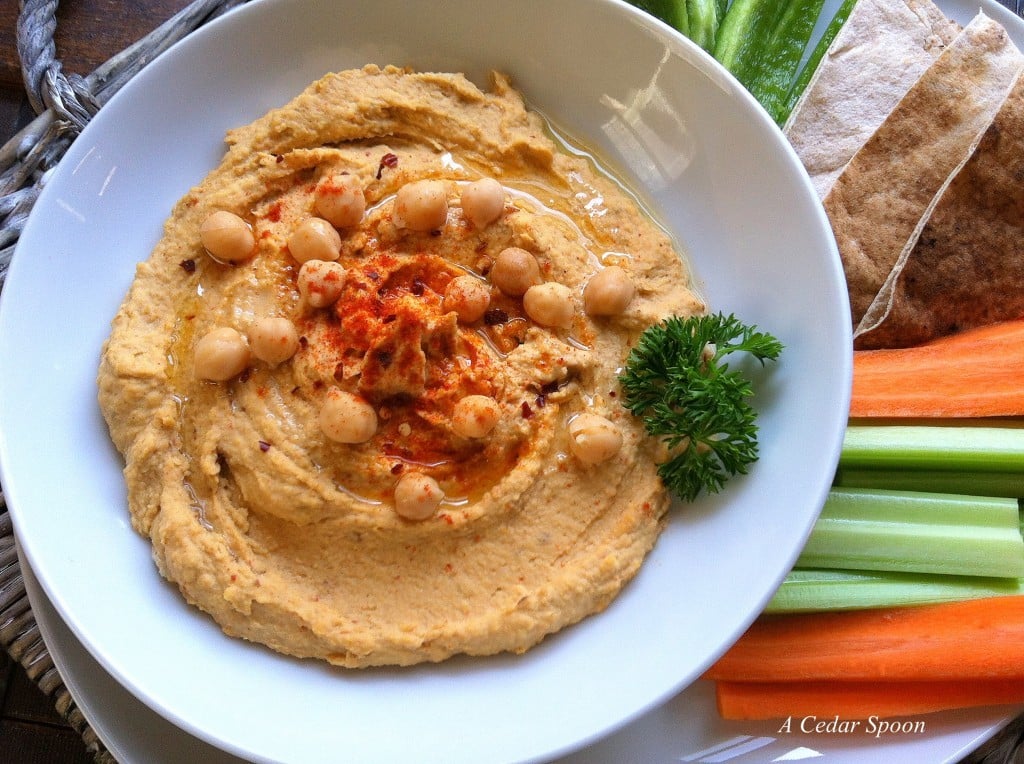 Recently I have been trying variations on normal hummus (don't get me wrong I love plain old fashioned hummus) which started with this Roasted Red Pepper Hummus and has now moved onto this Spicy Hummus.
WHAT INGREDIENTS ARE IN HUMMUS?
CHICKPEAS: The main ingredient in hummus is chickpeas that are drained and rinsed. I just buy canned chickpeas but you can also use dried chickpeas that you soak.
TAHINI: Tahini is another important ingredient in hummus. You can buy tahini at the store or you can make your own. Tahini is ground up sesame and turned into a paste.
GARLIC: Garlic is another ingredient that you typically include in hummus. You can do more or less depending on your tastes.
LEMON: I love lemon so I add lemon to my hummus. Once again this is something you can leave out or add more of depending on what you like.
OLIVE OIL: Olive oil is used in hummus and is also a nice way to thin about the humus is you think it is too thick. I used extra virgin olive oil.
SPICES: For this Spicy Hummus I used a combination of spices which are smoked paprika, crushed red pepper, cumin and coriander. You can adjust this to your tastes!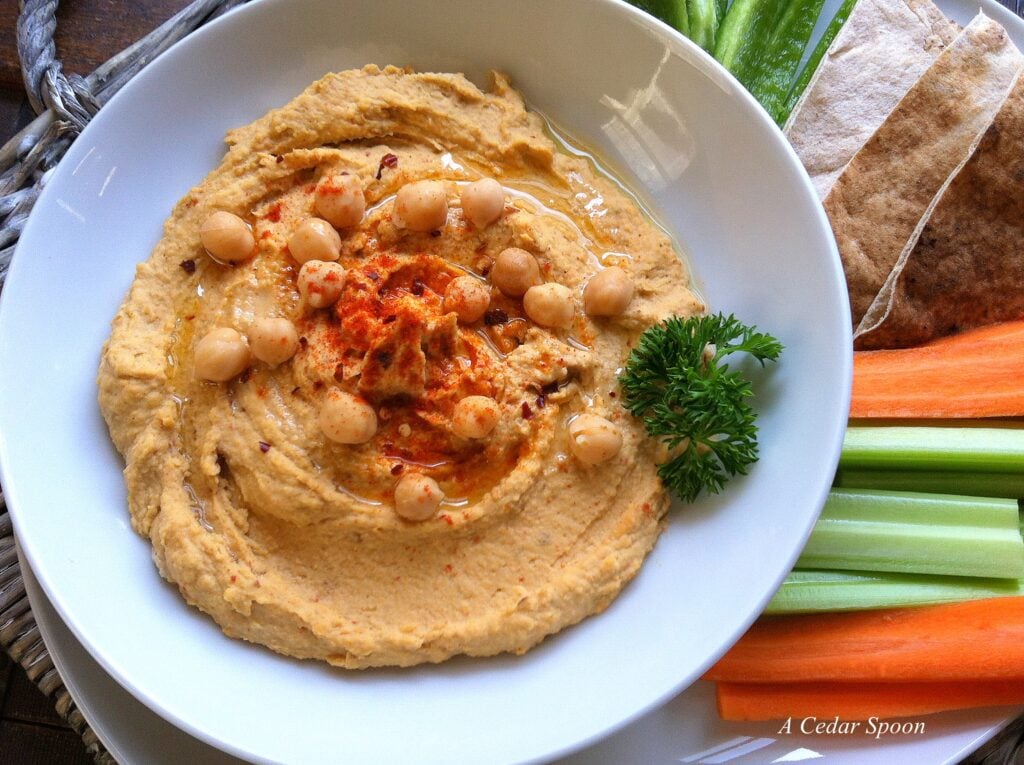 Here are a couple of things that I use when I make this spicy hummus recipe:
Note: These are affiliate links; view my Disclosure Policy for details. I earn a small percentage from any purchase you make by clicking on these links. This helps me keep my kitchen stocked with the ingredients I need to create delicious, healthy recipes for you!
Hamilton Beach 10-cup food processor

Spicy Hummus
A creamy, healthy appetizer with a little kick--perfect for dipping vegetables, pita chip or pita bread.
Ingredients
1 – 15.5 oz or 16 oz can of chickpeas (garbanzo beans)
1/4 cup reserved liquid from can of chickpeas (set aside separately)
juice of 1 lemon
1/3 cup tahini
1 garlic clove
3 Tbps extra virgin olive oil
1/2 tsp smoked paprika
1/2 tsp crushed red pepper
1 tsp cumin
1 tsp coriander
Garnish options include a drizzle of olive oil, whole chickpeas, parsley, paprika and red pepper flakes (optional) and serve with pita chips, pita bread or vegetables.
Instructions
Drain chickpeas and set aside liquid from can along with a few chickpeas for garnish.
Combine all ingredients in the food processor (except the reserved chickpea liquid). Blend for 30 seconds to 1 minute (blend longer for more creamy texture). Use the reserved chickpea liquid to add to the hummus and blend more if you feel you want a creamier texture.
Place in serving bowl.
Garnish ideas: chickpeas, paprika, parsley and a drizzle of olive oil.
Serve immediately with fresh, warm pita bread, veggies or cover and refrigerate.
Notes
You can refrigerate the hummus in a covered container for up to a week. I believe that the key to a good hummus is taking a few tastes while making it. Blend the ingredients for 30 seconds, use the pita to taste a little bit and adjust to your tastes. If you want it to be a little creamier add a little of the reserved liquid and blend for another 30 seconds and so on. You can also adjust the spice according to your taste.