Roasted peppers make a healthy and delicious addition to traditional hummus in this Roasted Red Pepper Hummus recipe. This works nicely on warps, for dipping or in hummus bowls.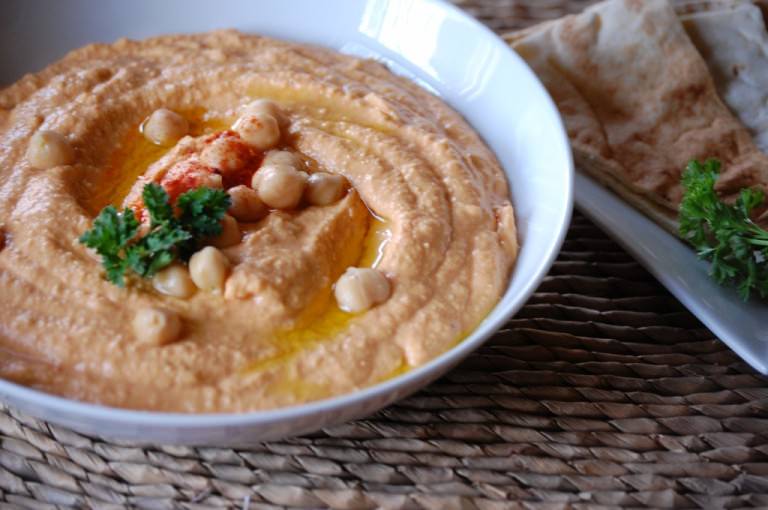 Roasted Red Pepper Hummus
Today's Roasted Red Pepper Hummus recipe reminds me of my childhood. Eating hummus around the kitchen table, talking and spending time with the people I care about most.
Speaking of family– I think I have mentioned before that my Mom's side of the family is Lebanese. When people ask me "what are the customs or traditions that your family has that are Lebanese" I always talk about cooking and food. It is a big part of my family growing up, and when you talk about Lebanese cooking, you of course talk about hummus!
Hummus is our favorite snack, appetizer, side dish or even a healthy main meal (mixed with a little chicken or kibbeh).
Healthy, tasty, and can be customized every time you make it!
Typically we just make plain, old regular hummus (which is fine with me!) since that is how my Mom and Grandma always made it growing up.
Recently though, we have tried to change it up a little from time to time. Roasted red peppers are a great addition to hummus and add additional health benefits, vitamin C and A and fiber (not to mention the beautiful color they add to hummus).
I bought fire roasted roasted red peppers from Trader Joes but you can use whatever roasted red peppers you want.
Grab your pita and dig in…this Roasted Red Pepper Hummus will be gone in one sitting!
A light and healthy salad packed full of veggies, olives and feta and topped with a light vinaigrette.
Ingredients
2 tablespoons extra virgin olive oil
Juice of 1 lemon
1 teaspoon oregano
1 teaspoon dried basil
Salt and black pepper to taste
3 cups pasta (I used tri-colored rotini, fortified with spinach and tomato)
1/2 English cucumber, chopped
1/2 red pepper, chopped
1/2 small red onion, chopped
3/4 cup kalamata olives, sliced
3/4 cup crumbled feta cheese
1 cup cherry tomatoes, sliced in half
Instructions
Directions
Bring a pot of water to a boil and cook pasta until al dente.
In a small bowl whisk together olive oil, oregano, basil and lemon juice. Add salt and pepper to taste.
In a large bowl, combine cooked pasta, onion, tomatoes, cucumber, red pepper, olives, feta cheese.
Toss the pasta salad with half of the dressing, mixing well. Cover the bowl and chill overnight.
Before serving the salad toss the remaining half of the dressing over the pasta salad.
Notes
If you are serving the salad right away you can rinse the pasta off with cold water to cool it down then mix it with the vegetables, cheese and olives and all of the dressing. Peperocinis would be a great addition in this recipe (I just didn't have any on hand) as well as grilled chicken or chopped roasted red peppers. Pasta salads are very customizable! If there is something you don't like take it out. If there is something you want, add it in. There are no rules!!