Roasted peppers make a healthy and delicious addition to traditional hummus  in this Roasted Red Pepper Hummus recipe.
Before I jump into a recipe I wanted to take a moment to reflect on Friday's tragic events in Newtown.
The teachers, children, families, friends, the whole community are grieving for those innocent lives lost that day. As I watch the footage of what is going on I try to imagine myself, a mother of a 15 month old, wonderful, energetic, little boy and can not imagine the pain of losing a child. It is something that no one should have to go through.
There have been so many beautiful tributes and memorials to honor the victims. I caught the beginning of the Voice last night where they sang one of my favorite songs "Hallelujah", in honor of the victims. It was beautiful & moving, especially seeing them holding the names of the victims.
Hallelujah – A Tribute to the Victims of Sandy Hook (click here to watch)
As I write this post, which seems so unimportant in comparison, I share a recipe that makes me happy. A recipe that reminds me of my childhood- eating hummus around the kitchen table, talking and spending time with the people I care about most. I hope that everyone can take time over the holidays to spend time with loved ones, give extra hugs and kisses to those that matter most to you and help that child that may seem a little quieter or troubled than the rest. 
Speaking of family– I think I have mentioned before that my Mom's side of the family is Lebanese.  When people ask me "what are the customs or traditions that your family has that are Lebanese" I always talk about cooking and food. It is a big part of my family growing up, and when you talk about Lebanese cooking, you of course talk about hummus!
Roasted Red Pepper Hummus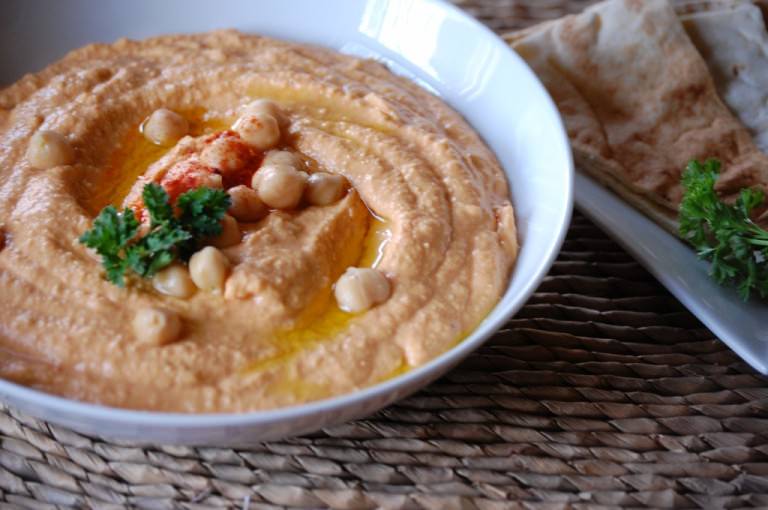 Hummus is our favorite snack, appetizer, side dish or even a healthy main meal (mixed with a little chicken or kibbeh).
Healthy, tasty, and can be customized every time you make it!
Typically we just make plain, old regular hummus (which is fine with me!) since that is how my Mom and Grandma always made it growing up. Recently though, we have tried to change it up a little from time to time. Roasted red peppers are a great addition to hummus and add additional health benefits, vitamin C and A and fiber (not to mention the beautiful color they add to hummus).
I bought fire roasted roasted red peppers from Trader Joes but you can use whatever roasted red peppers you want.
Grab your pita and dig in…this Roasted Red Pepper Hummus will be gone in one sitting!
Print
Prep Time:

15 minutes

Total Time:

15 minutes

Yield:

A group
---
Scale
Ingredients
1

–

16

oz can of chickpeas (garbanzo beans)

1/4 cup

liquid from can of chickpeas
juice of

1

lemon

2 tablespoon

s tahini

1

garlic clove

2 tablespoon

s olive oil
Salt to taste

3

slices of roasted red peppers (I used canned fire roasted red peppers from Trader Joes)
Paprika and parsley for garnish
A large handful of chickpeas reserved for garnish
---
Instructions
Drain chickpeas and set aside liquid from can along with a few chickpeas for garnish.
Combine all ingredients in the food processor (except the reserved chickpea liquid). Blend for 2-3 minutes (blend longer for more creamy texture). Use the chickpea liquid that you reserved to add to the hummus and blend more if you feel you want a creamier texture.
Add the roasted red peppers and pulse until the peppers are blended in and the hummus is smooth.
Place in serving dish, drizzle with olive oil and garnish with paprika and parsley (optional).
---
Notes
If you want to roast your own red peppers follow these instructions (http://www.yumsugar.com/How-Roast-Red-Peppers-241907). Hummus can be refrigerated for up to 4-5 days and can be kept in the freezer for up to one month. Add a little olive oil if it appears to be too dry.
Adapted from Tastespotting