This is The Best Roast Beef Recipe that you will serve guests this holiday season. Olive oil is mixed with freshly chopped rosemary, thyme, parsley and garlic to create a flavorful crust. Pair this with a cabernet sauvignon and your favorite side dishes.
Today the Ohio Beef Council and I are talking about beef roasts. They are the perfect meal for a big crowd over the holidays. This is The Best Roast Beef Recipe if I do say so myself. As I prepare for Christmas I am always looking for that recipe that will impress my guests while also being a fool-proof meal that I can make alongside other side dishes.
This roast uses a top round sirloin roast and pairs fresh rosemary and garlic to create a flavorful crust. It is roasted in the oven until it is tender and juicy that you and your guests will love.
THE BEST ROAST BEEF RECIPE
When I host a holiday gathering I like to have a start recipe that will impress my guests. I like that roast beef recipes feed a large amount of people and that they can cook in the oven while you prepare the rest of your meal.
As you will see below this roast is rubbed with a mixture of olive oil, rosemary, parsley, thyme and garlic. It helps to create a really delicious, flavorful crust. I love using fresh herbs when I make holiday roasts because I think they really help brighten the dish and bring out extra flavor.
BEEF ROAST COOKING TIPS
Some of the best cuts for oven roasting include beef round, rib roast and tenderloin roast.
Before cooking, put the roast fat side up on a rack in a shallow roasting pan. The only exception to this rule is the rib roast because the ribs form a natural rack.
Oven roasting is a go-to cooking method during the holidays because it generally uses a lower temperature over a longer period, allowing you to "set it and forget it". Refer to this oven roasting cooking chart for timing guidelines and other helpful tips.

When roasting larger cuts, an ovenproof meat thermometer that stays in the roast while cooking is preferable to an instant-read thermometer. This helps you avoid opening the oven unnecessarily and poking multiple holes in the roast and losing those delicious juices.
Once the roast is removed from the oven, transfer it to a carving tray or cutting board, then cover it loosely with aluminum foil (this is called tenting) and let it rest. Larger roasts need more time to rest, often up to 15–20 minutes. Use that resting time to make an au jus from the beef drippings!
IS BEEF HEALTHY FOR ME?
This holiday season, thousands of families across Ohio will buy beef. Ohioans spend about $4 billion each year on beef, which is a healthy, high-quality protein choice.

One 3 oz. cooked serving of beef provides half of your recommended daily value of protein.
Beef is packed with protein and 10 other essential nutrients, like iron, zinc and B vitamins, which help with cognition, weight management and muscle maintenance.

Cut back on snacking by eating beef! People whose diets consist of protein-rich foods like beef tend to feel fuller longer, which prevents snacking between meals and overeating.

The protein in beef helps support strong bodies! Eating at least 4 ounces of high-quality protein from foods like beef during each meal provides enough protein to live an active lifestyle.
HOW ARE CATTLE RAISED?
Although many believe that industrial farming has taken the place of family farms and ranches, 98 percent of beef farms are family-owned and operated. Meet one of the 17,000 beef farming families in Ohio at www.OhioBeef.org.

Ohio beef farmers are committed to providing excellent care for their animals, protecting and preserving the environment, and producing safe, wholesome beef for families. U.S. beef has one of the lowest carbon footprints in the world, 10 to 50 times lower than some nations.

As both parents and Ohio beef farmers, the Clark and Hollowell families pay careful attention to what they feed their kids. Learn more about how feeding their families and yours impacts these beef farming families' daily farming practices in this short video.
WHAT WINE PAIRS WITH ROAST BEEF?
You can't go wrong pairing beef with cabernet sauvignon. One of the best American wine and food marriages is grilled steak and a big, oak-aged cabernet.
Get roasting and toasting! Enhance the rich flavors of a pot roast or ribs by serving with a glass of medium red wine, like merlot or zinfandel.
WHAT SHOULD I SERVE WITH A ROAST BEEF?
Green Bean Casserole :: This Green Bean Casserole recipe is a classic holiday side dish you can't miss out on. Tender green beans are tossed in a delicious creamy sauce, cheese, crispy onions, and baked with even more crispy onions until hot and bubbly.
Balsamic Roasted Carrots :: Balsamic Roasted Carrots offer a healthy side dish to your next holiday meal or weeknight dinner. The sweet honey mixed with the robust flavors of balsamic vinegar and extra virgin olive oil pair wonderfully to add flavor to this roasted carrots recipe.
Homemade Cranberry Sauce :: Who doesn't love a good cranberry sauce recipe? It pairs so well with a roast beef recipe. I like to even drizzle it on the beef!
Gouda Smashed Potatoes :: Golden potatoes are drizzled with olive oil and garlic and baked until crispy and then topped with gouda and warmed until the cheese is warm and melted. Gouda Smashed Potatoes are the perfect holiday side dish that will impress your guests.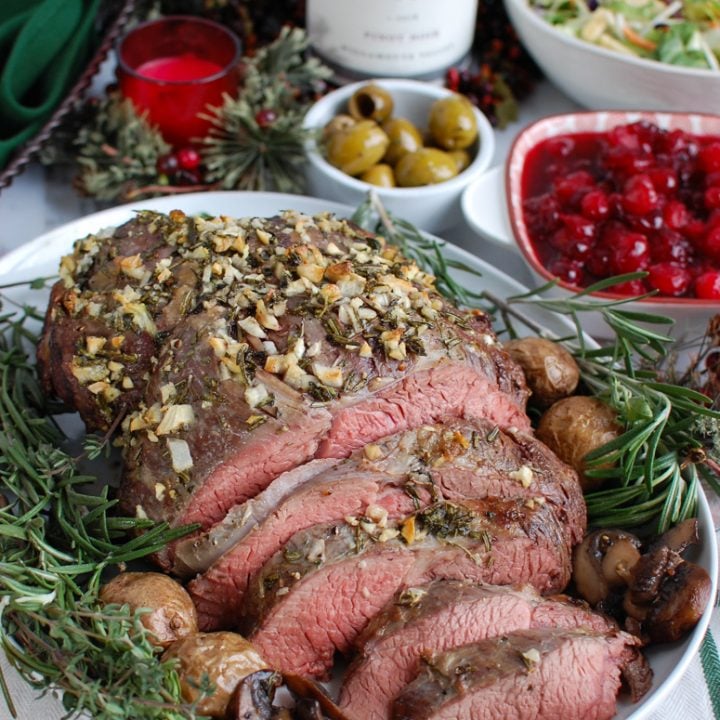 The Best Roast Beef Recipe
Yield: 6-8

Prep Time: 15 minutes

Cook Time: 1 hour 20 minutes

Total Time: 1 hour 35 minutes
Ingredients
4 pound Beef Top Round Roast
2 teaspoon fresh oregano, chopped
2 teaspoons fresh rosemary, chopped
1 teaspoon fresh thyme, chopped
3 teaspoons fresh parsley, chopped
2 Tablespoons olive oil
4 garlic cloves, minced
2 teaspoons kosher salt
1/4 teaspoon black pepper
Instructions
Take your beef out of the fridge and let it come to room temperature on the counter for about a 1/2 hour.
Preheat your oven to 450 degrees.
Combine all of the spices and garlic in a small bowl along with the olive oil.
Coat the beef with the herb and garlic mixture, making sure to coat both sides.
Place the roast on a wire rack inside a shallow baking dish or use a roasting pan with a wire rack. Sprinkle with a bit more salt and pepper.
Roast for 15 minutes at 450 degrees F.
Reduce temperature to 325°F and roast an additional 1 hour to 1 hour and 5 minutes or until medium rare (125- to 130°F) doneness.
Remove from the oven and tent with tin foil for 15 minutes.
Slice into thin pieces and serve with fresh parsley, satueed mushroom and any additional favorite sides.

Notes
A top sirloin roast done in this low and slow method in the oeven will take you approximately 22 minutes per pound of meat. This also depends on the thickness of your roast, if you let it come to room temperature and a lot of other factors. Use a thermometer and start checking after the hour point of cooking.

Today's post is sponsored by the Ohio Beef Council. As always, opinions are 100% my own.