Easy Instant Pot Shredded Chicken is a quick way to make pulled chicken that you can use in a variety of meals from tacos, to enchiladas, to salads. Make a big batch of this and you will have 2 to 3 meals to feed your family with. It is a great way to meal-prep on the weekends!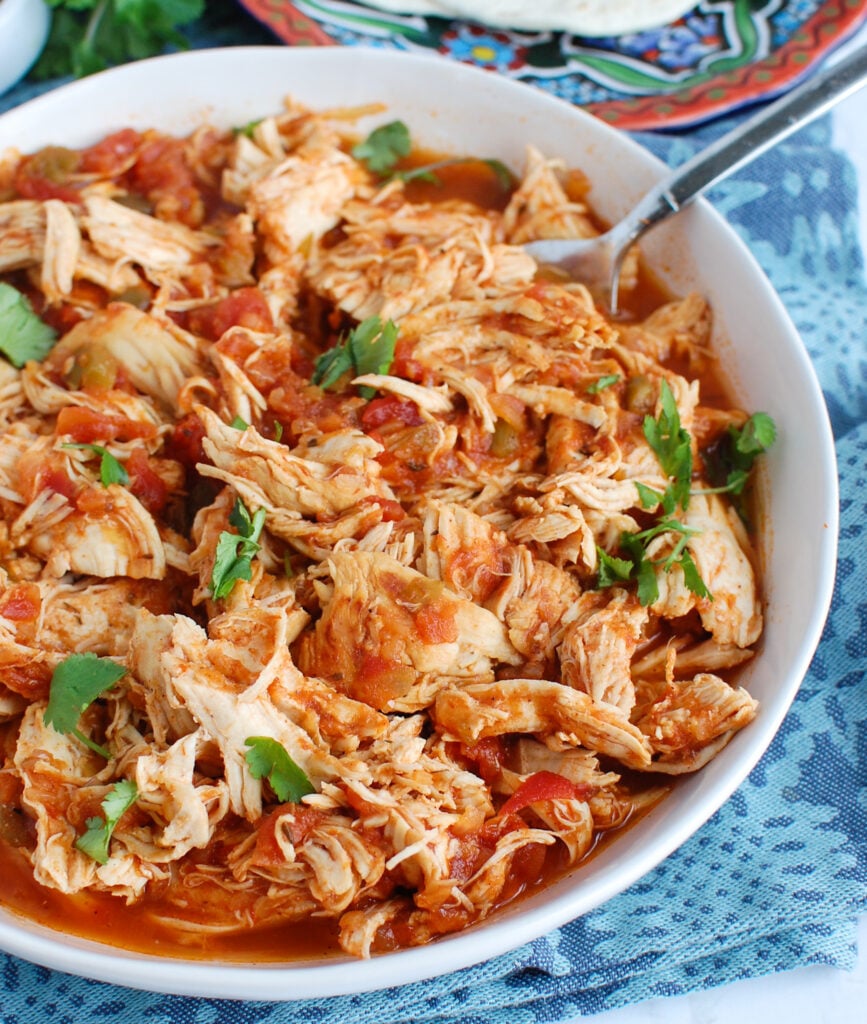 EASY INSTANT POT SHREDDED CHICKEN
Today I am going to show you how to make an Easy Instant Pot Shredded Chicken recipe using a jar of salsa and few other ingredients. This recipe is quick to make and perfect for so many meals throughout the week.
You might remember my Slow Cooker Shredded Chicken recipe I posted a few years ago.
We use this type of shredded chicken in everything from Chicken Enchiladas, Shredded Chicken Tacos, salads and a Mexican Pizza.
My kids like to call this chicken Instant Pot Taco Chicken.
I love that I can make a big batch of this shredded chicken and then use it for two to three meals throughout the week.
It is one of my favorite meal-prep meals.
We also like to rotate other Instant Pot chicken dishes like this Instant Pot Creamy Rosemary Chicken Thighs, Easy Instant Pot Rotisserie Chicken or this Instant Pot White Chicken Chili.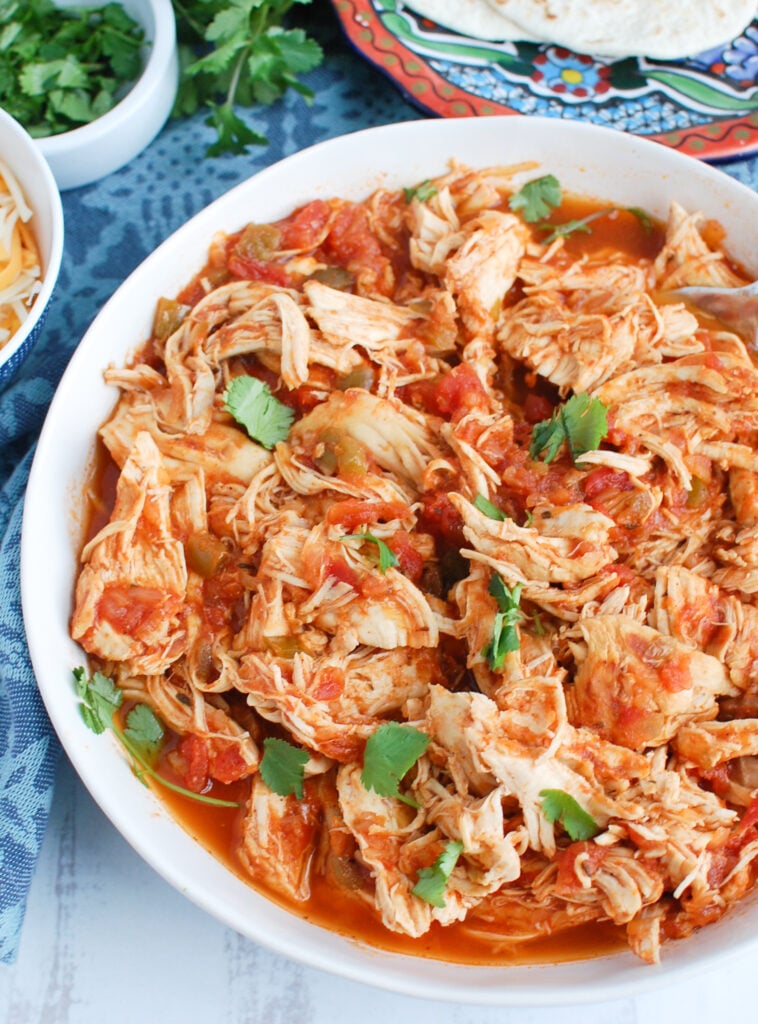 For this recipe of instant pot pulled chicken I use a jar of salsa because I like the flavor it adds to the chicken.
If you want plain shredded chicken to create BBQ Chicken Sandwiches or to use in other meals just substitute the jar of salsa for 1 cup of chicken broth.
That will create a more basic shredded chicken that you can use in a lot of different ways including my Curry Chicken Salad recipe!
WHAT INGREDIENTS ARE IN SHREDDED CHICKEN IN THE INSTANT POT?
CHICKEN BREASTS: I like to use boneless skinless chicken breasts for this recipe. If you don't have fresh on hand you can use frozen, just add 2 minutes to the cook time.
SPICES: I add a combination of spices to the chicken to help add flavor. You can modify to your liking but I use oregano, garlic powder and chili powder.
SALSA: I add a jar of salsa to this recipe. You can use whatever you favorite is or make a homemade salsa or an easy homemade salsa verde.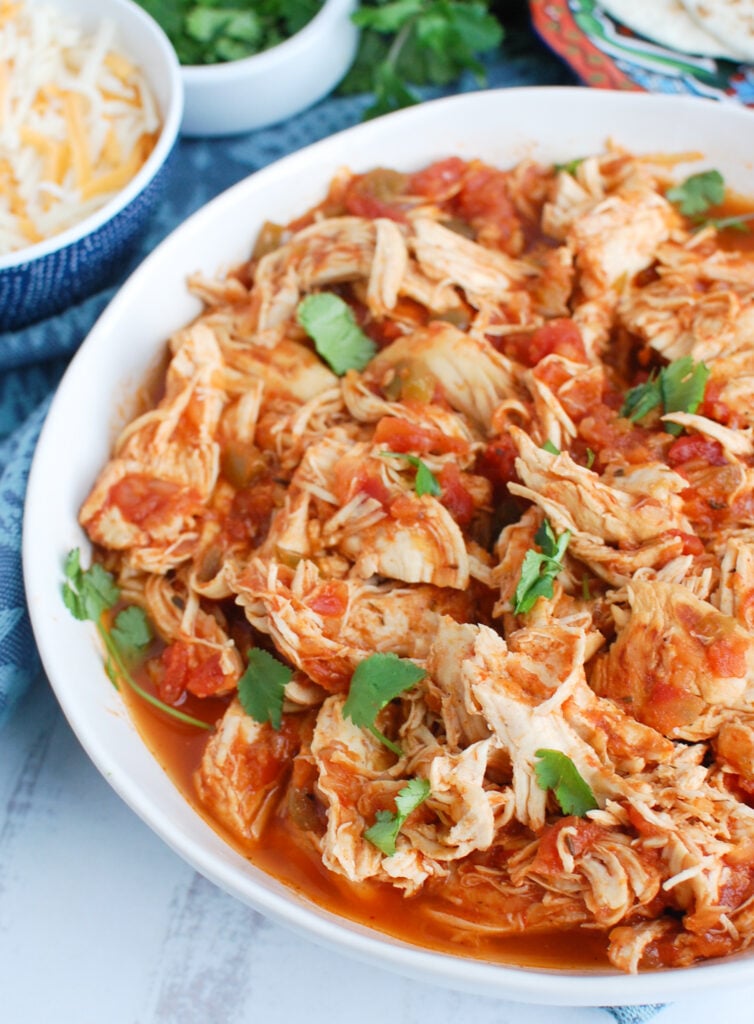 HOW DO YOU MAKE INSTANT POT PULLED CHICKEN?
This is a quick and easy recipe! Here are the steps to make this pulled chicken:
Add a small amount of salsa to the bottom of the pressure cooker followed by the chicken breasts seasoned with the spices followed by the rest of the salsa and water.
Seal the instant pot and set to Manual High for 10 minutes followed by a 5 minute natural release and then a quick release to let the remaining pressure out.
Shred the chicken and put it back in the instant pot with the juices. If there is too much liquid drain some of it to your liking.
Serve the shredded chicken in tacos, salads, rice bowls or your favorite Mexican dishes. You can keep the chicken in the fridge for up to 4 days or freeze it for later for up to 3 months.
WAYS TO USE SHREDDED CHICKEN
RICE BOWLS: We love rice bowls in my house! You can substitute the shredded chicken for pork in these Slow Cooker Cuba Pork Rice Bowls or add them to this Brown Rice Taco Bowl.
MEXICAN DISHES: You can use this shredded chicken in these Black Bean Enchiladas, this Easy Mexican Noodle Casserole, Mexican Zucchini or on nachos.
SOUPS: I have a lot of soups that use shredded chicken. It is a nice way to get a filling meal on the table. Try this Slow Cooker Mexican Chicken Lime Soup or this Slow Cooker Mexican Cheesy Soup.
Easy Instant Pot Shredded Chicken
Ingredients
3 - 4 Chicken Breasts, skinless/boneless (approx. 8 ounce each
1 - 15 ounce jar of your favorite salsa
1/4 cup of water
1 teaspoon oregano
1 teaspoon garlic powder
1 teaspoon chili powder
1/4 teaspoon salt
1/8 teaspoon black pepper
Instructions
In a small bowl mix together the oregano, garlic powder, chili powder, salt and pepper. Season the chicken breasts with the spice mixture.
Put about 1/2 of a cup of salsa on the bottom of the instant pot. You want to make sure there is a thin layer on the bottom.
Place the chicken breasts on top of the salsa and then pour the reminaing salsa on top of the chicken breasts.
Add a 1/4 cup of water to the pressure cooker and seal the lid. Put the steam knob to the sealed position.
Set the instant pot to Manual HIGH for 10 minutes, followed by 5 minutes of natural release then quick release the rest of the steam and pressure. Make sure to turn the instant pot off when you do this and point the steam away from you.
Remove the chicken and put it in a large bowl. Use two forks to shred the chicken. Add the chicken back to the instant pot and give it a good stir. If there is too much liquid you can drian some of that off.
Serve in rice bowls, tacos, salads or other Mexican dishes.

Notes
If you want a more basic chicken without the salta just use 1 cup of chicken broth instead of the salsa.
You can use any salsa you like. I try to go for a medium thickness. Salsa verde also works really well.
Did you know you can use frozen chicken in the instant pot? Use frozen chicken just add 2 extra minutes to the high pressure cook time.