The Mediterranean diet uses a variety of mediterranean spices that are unique to that region. They add warm, rich flavors to dishes and help bring simple recipes to life. These are my favorite 10 Mediterranean Spices to Add to Your Cooking. They work great with chicken, beef, protein, vegetables, to just about any dish!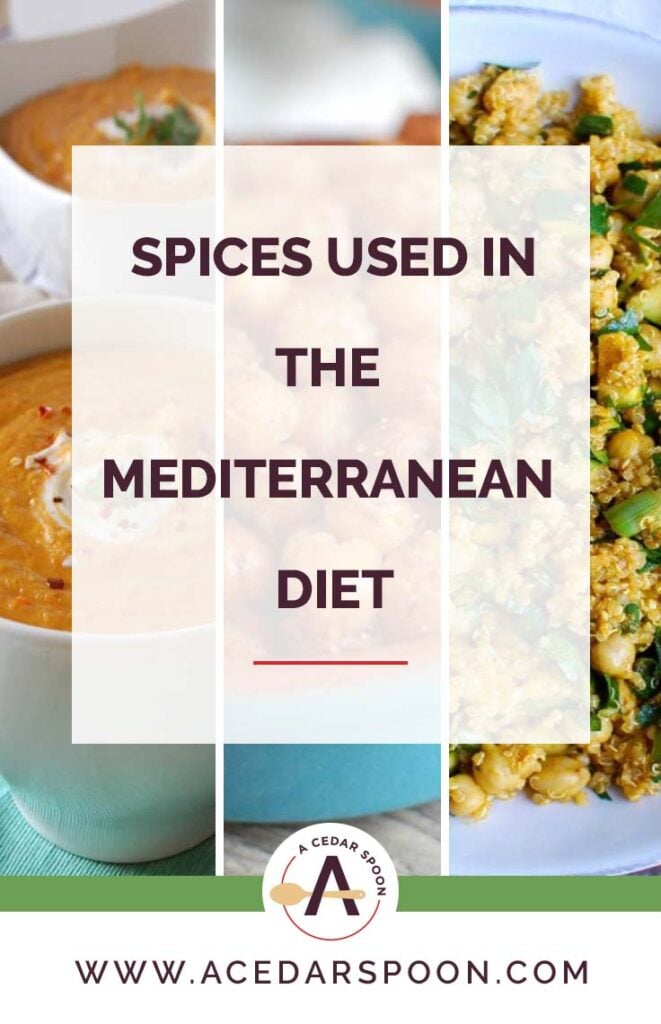 10 MEDITERRANEAN SPICES TO ADD TO YOUR COOKING
Mediterranean food has been a part of my life since I was a baby. As many of you know my family comes from Lebanon and the spices and food of that region make it into a lot of my recipes. I wanted to share ten of my favorite Mediterranean spices that I use in my kitchen.
I am also including some recipes that you can make using those spices that are favorites in my house. My favorite mediterranean spice blend is za'atar and can be found in all of these recipes here.
SUMAC
When I think of Mediterranean cooking in my family, sumac comes to my mind. I have always loved sumac and the sweet, tart and lightly astringent flavor it adds to dishes. To make sumac you crush the dried fruits of the sumac bush. You can typically find this in a local Middle Eastern or Lebanese store or sometimes in the ethnic section of grocery stores.
I use sumac in all kinds of dishes as a Mediterranean seasoning. I use it in the dressing of this Mediterranean Bean Salad and Fattoush Salad, sprinkle it on my Lebanese Hummus Recipe, to using it in a rub for these Sumac Lemon Baked Chicken Wings.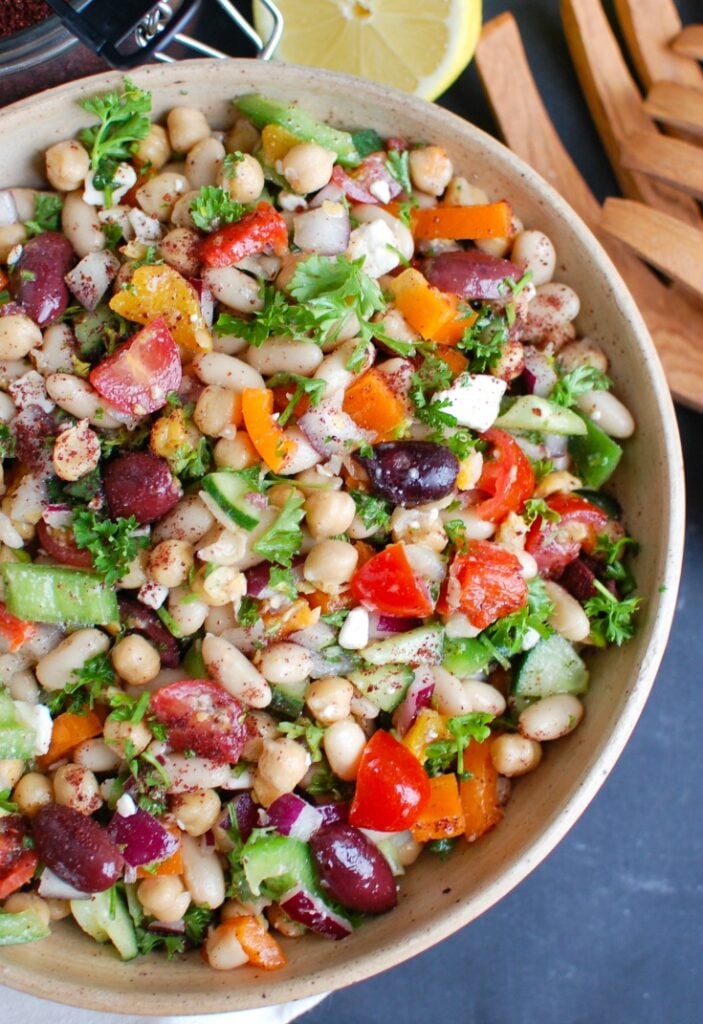 ZA'ATAR
Za'atar is my favorite mediterranean spice mix. It is a spice mixture of sesame seeds, sumac, and herbs that is earthy. It is by far one of my favorite mediterranean spice blends.
This is a spice blend that lends itself nicely to a variety of recipes. I especially love it when roasting chicken or vegetables. These Za'atar Roasted Cauliflower and Za'atar Roasted Carrots are two of my go-to vegetable recipes.
CINNAMON
Cinnamon is a well known spice that is fragrant with a slightly sweet taste. It is used in a variety of recipes from baking, drinks, soups, main dishes and more. In Lebanese cooking we use cinnamon in so many dishes to help create that warm, rich flavor. It compliments fruits like apples and apricots, and works nicely in beef dishes like Kibbeh and Hummus with Spiced Beef and Toasted Pine Nuts.
CUMIN
Cumin is a spice that is made from the dried seed of a plant called Cuminum Cyminum, which is a member of the parsley family. It is a spice you probably have seen in Mexican, Indian and North African cuisines as well as Mediterranean.
CARDAMOM
Cardamom is made from the seed pods of a variety of plants within the ginger family. It can be used in dishes as a ground spice or a whole spice. It is a main ingredient in a chai spice blend which I love using in my Homemade Chai Teal Latte.
The flavor of cardamom is earthy with hints of lemon and mint. I use it in these Tenderest Cardamom Pancakes which adds such a unique flavor as well as in this Chicken Shawarma Recipe.
ALLSPICE
Allspice is used in sweet and savory recipes. It is most known for being used in jerk recipes from Jamaica. Allspice is from a berry. The berries contain two seeds and have a dark reddish-brown exterior.
In Lebanese cooking we use allspice a lot in our beef recipes. I love to use it in these Beef Kafta Meatballs and these Slow Cooker Mediterranean Beef Meatballs.
SMOKED PAPRIKA
Smoked paprika is made from pimiento peppers that are dried and smoked over an oak fire and ground into a powder. That is where you get that smoky flavor that everyone loves. You might also know of the sweet paprika that is Hungarian.
The smoky flavor lends itself nicely to egg dishes or grilled meat or poultry. They also work really nicely in these Paprika Roasted Potatoes with Greek Yogurt Dressing or as a topping on Crispy Chickpeas.
ROSEMARY
Rosemary is a fragrant herb native that is actually a native to the Mediterranean region. It is a member of the mint family, along with oregano, thyme, basil and lavender. Rosemary has a very pronounced lemon-pine flavor, yet it is also woodsy, piney and peppery at the same time.
Rosemary can be used in many dishes from soups like this Navy Bean and Greens Soup to these Lemon Marinated Olives to this Warm Brie Cranberry Naan.
TURMERIC
Turmeric is one of my favorite spices and a must have in my 10 Mediterranean Spices to Add to Your Cooking. I love it in food but also like it is in Tumeric Lattes and juices. It is mildly aromatic and has scents of orange or ginger. It has a pungent, bitter flavor.
Turmeric is the spice that gives curry its yellow color. Curcumin is the main active ingredient in turmeric. It has powerful anti-inflammatory effects and is a very strong antioxidant which is why you hear a lot of health benefits relating to turmeric.
Some of my favorite recipes using Turmeric is this Turmeric Roasted Cauliflower, Zucchini Chickpea Quinoa Salad and these Moroccan Chicken Thighs.