Happy New Years Eve! I can't believe tomorrow is 2014! Where has time gone?
Yesterday I shared the Top 10 Most Popular Recipes on A Cedar Spoon in 2013.  Today I wanted to share with you my Top 10 Favorite Recipes of the year on A Cedar Spoon. It was a hard choice because I have so many favorites but I narrowed it down. These recipes are ones I hold near and dear to my heart for one reason or another—family recipe, reminds me of my childhood, or is something I have on my regular rotation of recipes that I make.
10. Kibbeh Meatballs with a Spiced Yogurt Sauce: Kibbeh is a Lebanese favorite that my family eats and I really loved how these meatballs turned out.  They were a little bit crispy on the outside and with the spiced yogurt sauce gave them a great kick.
9. How to Make Homemade Granola: We eat a lot of granola in our house and I really like being able to control what is in it and make different varieties depending on the time of year and our tastes.  Homemade granola is not time intensive and you can keep a canister of it around for snacks, breakfast or to add into recipes like granola bars.
8. Southwestern Sweet Potato Rounds: The perfect bite sized appetizer for tailgating or a party –I love these healthy, flavorful sweet potato rounds. It is like eating nachos but a little bit healthier!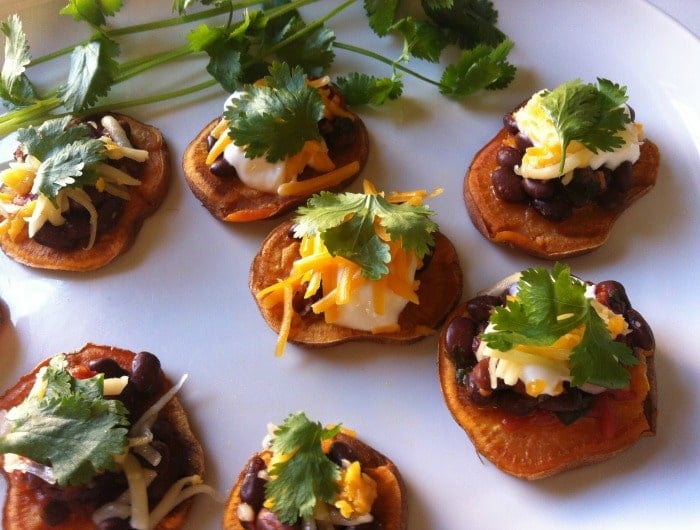 7. Tomatillo Salsa: I fell in love with tomatillos this year! I have always liked different variations of verde salsas but never tried to make my own.  This recipe is so easy—just throw the ingredients in the blender and you have a delicious salsa for chips, a topping for burritos or tacos.  I love the sweetness of the tomatillos!
6. Roasted Tomatoes and Whipped Goat Cheese Spread:  This spread reminds me of my favorite Chicago restaurant Café Babareeba. Not only do I love, love goat cheese and roasted tomatoes but I love them even more when they are paired together and baked until warm.  Throw some baguette alongside this appetizer and you have an easy dish for entertaining.
5. Turkey, Carrot and Zucchini Meatballs in a Healthy Tomato Sauce: I am always trying to find ways to incorporate vegetables into my son's diet (and the whole families diet for that matter).  This is an easy recipe you can make ahead that sneaks in the veggies and freezes well so they are ready to pull out when you need a quick, healthy dinner.
4. Pumpkin Dip: I brought this dip to a part we were throwing for my friend with some apples and cinnamon pita chips to dip in it and it was a huge hit! Once fall rolls around have this one in your back pocket for a quick appetizer.  It is another easy recipe that you can whip up in no time at all and people will be coming back for more.
3. Lemon Glazed Cookies: Think shortbread cookie but with a lot of lemony zest. These cookies are perfect for a brunch, shower or party and pair wonderfully with a cup of tea or coffee.  I am a lover of all things lemon so these are up pretty high in my book.
2. Cucumber Yogurt Salad: This has always been a family favorite. In Lebanese cuisine we use plain yogurt as a condiment to so many things: to dip kibbeh in, on a pita sandwich and in salads as a type of dressing. Cucumber Yogurt Salad is not only healthy but easy to throw together and enjoy throughout a busy week.
1. Curried Coconut Butternut Squash Soup: This is one of my new favorite soups for the winter! The warm curry spice mixed with coconut and butternut squash makes a creamy delicious bowl of soup.
Happy New Years everyone! I hope it is a fun filled, safe night of celebrating.
As I look ahead to 2014 what recipes would you like to see on A Cedar Spoon? Let me know!
Julia